Weather warning for ice on Scottish roads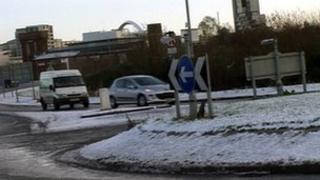 Warnings of rain, sleet and snow turning to ice overnight have been issued by the Met Office.
A yellow "be aware" weather warning has been issued for the whole of Scotland into Wednesday.
However, the Central, Tayside, Fife and Lothian and Borders region has an amber "be prepared" severe weather warning with widespread ice forecast.
The Met Office warned the public this could cause significant disruption to travel.
The warning, which runs from 20:00 on Tuesday until 10:00 on Wednesday, said: "Outbreaks of rain, sleet and snow will clear during Tuesday evening, with a risk of widespread ice forming very soon afterwards."
In the Highlands, the Met Office said: "Sleet and snow are expected during Tuesday evening and into Wednesday.
"The snow will be heavy in places, and the public should be aware that as this accumulates there could be some disruption to travel. Amounts of fresh snow could exceed 10cm in places."
It added: "In many low lying areas, particularly in the west and south of Scotland, rain and sleet are more likely than snow, but even here there is a low risk of snow causing some disruption.
"Icy stretches on roads will be an additional hazard in many places."
Head of network operations at Transport Scotland, Hugh Gillies, told BBC Radio Scotland: "Speaking to Met Office colleagues the forecast for the next three to four days remains challenging, so vigilance remains the case."
Icy conditions over the past two days have caused problems on Scotland's roads.
Police in Dumfries and Galloway said a number of crashes across the region highlighted the need to take extra care on the roads during winter.
A spokesman said: "The latest Met Office forecast indicates that rain, snow and sleet moving across Scotland will clear during this evening, however there is a risk of widespread ice forming shortly afterwards.
"Again roads will be affected and drivers should take extra care when driving in these conditions."
North Lanarkshire Council said gritters would be treating primary roads but drivers were advised to take extra care.
It said: "Freezing rain falls as rain but lands on the road surface which is below zero degrees and can then turn to ice, causing very slippery conditions."