Scotland's school bus winter costs revealed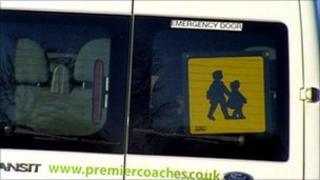 Scotland's councils paid more than three-quarters of a million pounds to school bus operators during last winter for services which were cancelled because of the weather.
Figures obtained by BBC Scotland also show wide variations in the contracts.
Some local authorities pay a reduced retainer fee when buses are cancelled but a third make payments in full.
The total paid during the prolonged cold spell for buses which did not run totalled £767,903.
One authority - Renfrewshire Council - said it is planning to look again at the arrangement.
The council with the biggest bill for 2010-11 was Aberdeenshire, at £317,032.
Its contracts mean only 50% of the total is paid when buses are cancelled but after ten days that reverts to the full sum.
The bad weather caused local problems on 41 days during that period.
Head of Transportation Ewan Wallace told BBC Scotland: "(The agreement) is simple to understand for the operators and ourselves.
"It also builds in resilience so it means the contractor who provides the transport knows in advance what the situation is and can budget for that."
Councils have a statutory obligation to provide transport to school pupils who live more than three miles from their nearest school.
Some are taken by bus while many are collected by contracted taxis and for rural authorities this can be an expensive overhead.
Cancelled services last winter cost West Lothian Council £114,800, Perth and Kinross £89,460 and Orkney Islands Council £53,650.
But Midlothian, which pays 50% for the first day then nothing until a service is resumed, paid just £4,500.
Alan Findlater, whose company Premier Coaches in Inverurie, Aberdeenshire, operates 13 school contracts, lost £40,000 because of cancellations.
He said: "We have still got staff to pay, all our overheads and our insurance and finance.
"We can't just phone them and say sorry we can't make a payment this month because the weather has been bad.
"It's quite pivotal to the company that there is some sort of funding."
Safety of children
Labour's transport spokesman at Holyrood, Lewis Macdonald MSP, has called on all authorities to look again at their contracts.
He said: "Clearly there is a bit of a problem here because when the school bus doesn't run you would expect that the driver would not be paid the full whack.
"Of course a contract's a contract and if they are making every effort to run the transport then they should get some reward for that but it's important that public money is spent wisely."
A spokesman for the local authority body Cosla said: "The weather last year was especially severe which led to the closing of roads and schools across Scotland.
"Obviously the safety of children is the top priority, and in many circumstances it would not have been safe to bus children to school."