Echoes amplified by attack on schools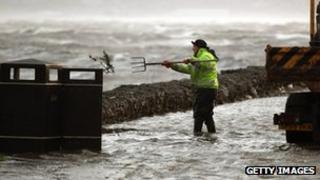 There is a ditty entitled "Little Sir Echo" recorded by artists as diverse as Bing Crosby, Vera Lynn and the Bonzo Dog Doo-Dah Band.
Today the role was admirably reprised by the Education Secretary Mike Russell.
As he sits alongside the recipient of questions to the first minister, Mr Russell offers a sporadic commentary.
Rather than confine himself to the occasional "hear, hear", the Ed Sec likes to emphasise the points being made by his colleague with a supportive "Yes!" or "quite right!"
Today he seemed more amplified than usual. Perhaps that was because Labour's Iain Gray had chosen to attack the Scottish government's record on schools - among other targets in a diverse contribution.
Nicola Sturgeon was standing in for the first minister, who is traversing Cathay. Ms Sturgeon seemed to this observer to be dealing competently, if not feistily, with all thrown at her.
But Mr Russell decided that there was no case so strong that it could not be strengthened still further by approving comments from a sedentary position.
Perhaps it was the tension in the atmosphere caused by the impending arrival of gale-force winds. Indeed, Ms Sturgeon opened with a weather forecast and travel report, combined.
Tense exchanges
Did Mr Gray pick up on this, the topic of the day?
He did not. Nobly noting that the Scottish government seemed to be "on top" of the problem, he said he was liberated to ask about what he regarded as scandalous budgetary constraint affecting the police, schools and the NHS.
Ms Sturgeon set out to rebut each complaint in turn, at one point describing Mr Gray's contribution as "utter nonsense" - while her neighbour, John Swinney, loudly urged his Labour counterparts to "grow up". Told you it was tense.
For the Tories, Ruth Davidson deftly dispelled that tension in the atmosphere with a funny. And rather a good one at that.
She was facing heckling from the SNP backbenches. Just as the education secretary likes to offer supportive comments, Nationalist backbenchers like to catcall. It is their role in life - at least at FMQs.
Panda chat
Turning towards them, Ms Davidson expressed her puzzlement at their "braying" contribution. She had thought that non-essential staff had been sent home because of the weather.
OK, you had to be there.
Then a few words about whether Mr Salmond had chided the Chinese over human rights. He had, we were reminded, done so by quoting from Adam Smith's Theory of Moral Sentiments - which was splendidly Confucian of him.
Then a quick chat about the pandas. They are, apparently, uniformly good news and Ms Sturgeon even invited the chamber to give them a round of applause.
And, once more, it was over before it had begun.
Rather wickedly, Murdo Fraser of the Tories invited Nicola Sturgeon to declare whether she preferred the pandas to Alex Salmond.
Wisely, she declined. He may be far, far away - but he is coming back soon.