Fewer people going before Scottish courts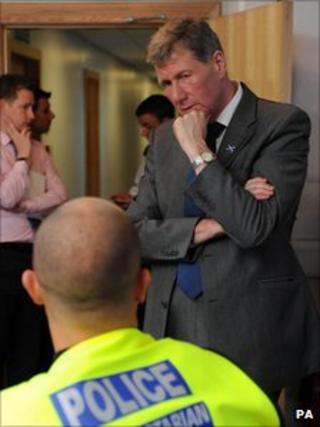 Fewer people are going before Scotland's courts, according to the latest government statistics.
The figure is now at the lowest level for eight years, reflecting the reduction in overall crime levels.
A total of 130,268 people were proceeded against in court, a drop of 5% on 2009-10. There were convictions in 89% of the cases.
The figures also showed fewer people were given community service orders and a similar reduction in numbers jailed.
The justice secretary said new community payback orders were already meaning fewer low-level offenders were being jailed for short terms.
Kenny MacAskill said this meant only those responsible for serious crimes which damage communities were going to prison.
The number of people with a charge proved fell for most crime groups including serious assault and attempted murder.
The figures also showed a drop in the number of people convicted of rape and attempted rape, which fell by a third in 2010-11.
The number of convictions for non-sexual violent crimes such as extortion, threats and cruel treatment of children, rose by 56%. Sexual assault convictions rose by 8%.
Meanwhile convictions for those caught with an offensive weapon fell by 14% from 2,866 to 2,473.
Average custodial sentence lengths increased for some of the more serious crimes and fell for some of the others.
Justice Secretary Kenny MacAskill said the average sentence for someone convicted of handling an offensive weapon increased to 288 days, above the average sentence length for all crimes of 277 days.
He added: "These figures underline that those guilty of serious offences are being rightly punished with lengthy prison sentences.
"Thanks to the efforts of 1,000 extra police on our streets, recorded crime is now at its lowest level in 35 years, fear of crime is down, the number of people carrying out crime is down and those that do break the law are being punished swiftly.
"Prison will always be the right place for serious and dangerous offenders but for low-level offenders, the statistics are stark and show us that short sentences do not work."
The Scottish government said the introduction of community payback orders, in February 2011, as part of the new Criminal Justice and Licensing (Scotland) Act should lead to a further drop in short prison sentences of three months or less.
Mr MacAskill added: "The introduction of community payback orders in February 2011 is already seeing more low-level offenders repaying their dues to the community instead of serving a short prison sentence that, in the long term, does not reduce reoffending or protect the public, and ensuring only those responsible for serious crimes that do significant damage to our communities go to prison."
'Laughing stock'
Scottish Conservative MSP David McLetchie said the statistics were a damning indictment of the SNP's "soft touch" approach to crime.
He added: "More and more criminals are carrying out serious crimes but are only being given community sentences to punish them.
"Prison terms not only serve as a powerful deterrent but also protect the public from the violent individuals who are committing these crimes and it must be used more in these instances.
"That a criminal is much more likely to be given a formal warning for a sexual offence than a dangerous driving is unacceptable and a situation that must be reversed. It makes a laughing stock of the law and severely undermines public confidence."
Scottish Labour's Johann Lamont said that if you scratched beneath the surface of the statistics, the most serious types of crime had gone up.
She added: "It is deeply concerning that despite the number of rapes and attempted rapes reported by police increasing last year to a five year high, the number of offenders convicted for rape has hit a ten year low and rapists are now getting shorter sentences.
"These statistics should be a serious wakeup call for the SNP government to redouble its efforts to ensure those guilty of these horrific crimes are brought to justice."