Ice warning for roads in Scotland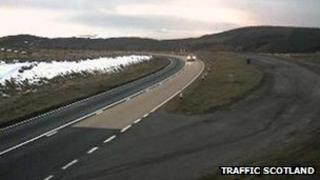 Widespread warnings of ice have been issues for roads across Scotland through until Thursday morning.
The Met Office severe weather alert said rain and frost could create problems on untreated roads.
Snow is also likely on some high level roads in the Highlands. Police forces across Scotland have advised people to "travel with caution".
On Wednesday Tayside Police warned that several crashes on the A9 were caused by people not driving to conditions.
Train services, which had been disrupted by heavy snow and fallen trees in the Highlands on Tuesday, have been returning to normal.
On the roads, surface water and localised flooding have also been affecting many routes in Central Scotland.
There have also been high wind restrictions on several major bridges.
The A83 Rest and Be Thankful in Argyll and Bute has fully reopened and the council said it hoped floodlights would allow the road to remain open during the hours of darkness.
Transport Minister Keith Brown said: "Now that the gale force winds and heavy rain has subsided floodlighting has been installed and tested along the section of road we know to be susceptible to landslip.
"This will allow conditions on the road to be monitored through the night, adding an extra layer of safety for drivers.
"We must caution though that we are at the mercy of the weather which in recent days has been extreme."
The move follows work to secure the route after a landslide at the start of the month. Further monitoring by geotechnical experts is continuing.
The enhanced content on this page requires Javascript and Flash Player 9
Map Key
Land
Cloud
Lakes, Rivers & Sea
Fog
Light
Heavy
Frost
Light
Heavy
Pressure Fronts
Cold
Warm
Occluded
Rain
Light
Heavy
Extreme
Snow
Light
Heavy
Temperature tab only
Temperature (°C)
More details from BBC Weather