Scottish courts tweeting ban continues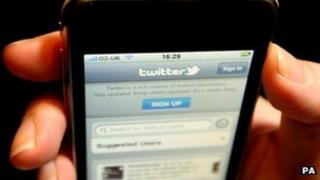 Journalists covering court cases in Scotland will not be allowed to openly use live text-based communication.
Confirmation of the rule came after new guidance allowed blanket court tweeting in England and Wales.
In Scotland, special permission of the court is required to use devices, such as mobile phones and tablets.
A statement from the Lord President noted the change in England and Wales and said suitable future guidance in Scotland would be looked at.
Journalists south of the border have been told by the Lord Chief Justice to "twitter as much as you like from today".
But he warned that permission to use such communications from court may be withdrawn "at any time" if it appeared to be interfering with the administration of justice.
Interim guidance was first issued on December 20, 2010, under which journalists in England and Wales had to make an application to a judge to request permission to use electronic devices to send texts.
Lord Judge then consulted widely on the issue, including with the media, the secretary of state for justice, the attorney general and members of the public.
After considering those responses, he has published the new guidance, which takes immediate effect.
Members of the public will be required to make an application if they want to use the devices.
In Scotland earlier this year, the trial judge in the Tommy Sheridan perjury case agreed that reporters could tweet the sentencing outcome.
Scotland's Lord President, Lord Hamilton, said following the change in England and Wales: "I note the guidance issued today by the Lord Chief Justice of England and Wales on the use of live text based communication from court. I will give full consideration to this guidance and its implications with a view to formulating suitable guidance in Scotland".