Signal workers in three-day strike over Christmas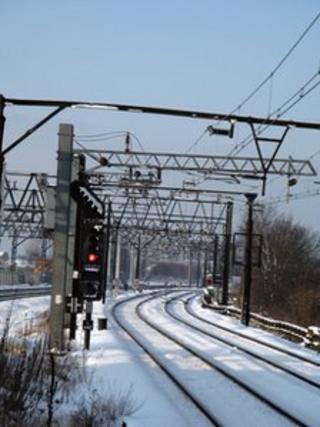 Signal workers are to stage a three-day strike from Christmas Eve in a row over career progression, threatening disruption to services.
The Rail Maritime and Transport union said the action would be taken by its members based at the West of Scotland signalling centre.
They will walk out for 72 hours from 05:59 on 24 December until until 05:58 on 27 December.
The union claims Network Rail has "ripped up" long-standing arrangements.
RMT said the arrangements had allowed experienced staff to be "slotted" into a post when it became vacant.
Network Rail said "slotting" had not been commonplace since British Rail was privatised in 1994.
It claimed the union would like to see posts filled on the basis of seniority, while Network Rail believes in appointing based on merit and suitability.
The company insisted that if a strike were to take place it would still be able to run a full service.
RMT general secretary Bob Crow said: "RMT has tried to reach a negotiated settlement to this unilateral ripping-up of a local arrangement but unfortunately the management have refused to see sense and RMT members will not stand by while management tear up agreements and practices that have been in place at local level for decades.
"As a consequence of management's intransigence, we have no option but to go ahead with this strike action.
"RMT members are furious at this refusal to comply with a local arrangement that offers genuine career progression opportunities."
He added: "RMT remains available for talks at any time aimed at resolving this dispute."
A Network Rail spokesman said: "Network Rail does not consider that any agreements have been breached - slotting is an out-dated practice which has not been recognised since privatisation.
"We feel that appointing on merit rather than just seniority is a reasonable ambition in the 21st Century workplace.
"We are disappointed the union is attempting, through its choice of dates, to disrupt Christmas travel, but are confident we can still run a full service."