Lloyds co-operates, RBS shrinks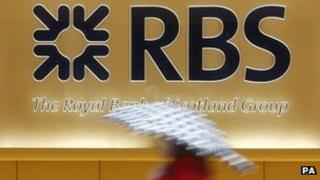 The Co-operative Bank seems to be a big help to Lloyds - not only buying the assets it's being forced to sell, but helping it avoid the requirement for the retail banking giant to sell yet more.
The Vickers Commission said there should be at least 6% of the personal current account market in a new competitor, and yet Project Verde assets forced by the European Commission into a sale only represent 4.6%.
These include more than 600 branches, 185 of them comprising all of Lloyds TSB Scotland.
The Treasury response to Vickers' Independent Commission on Banking today says a merger of those Lloyds Banking Group assets with the existing Co-op business would mean a competitor with 7-8% of the personal current account.
And it's not such a bad, established brand either.
Having "noted" last week's announcement, the government seems to conclude that would be sufficient.
And it might help explain why Lloyds Banking Group favoured Co-op over the NBNK new banking investment vehicle - the other shortlisted contender - as the latter wouldn't have reached the levels sought by Vickers' recommendations.
Retreating to Gogarburn
As for George Osborne's decision to require RBS to slim down its investment banking even further, and to retreat into being more of a UK bank, the word from the Royal Bank is that he's simply falling into line with chief executive Stephen Hester's blunt assessment with his third quarter results last month.
What seemed to be something of a threat then - the Royal's already shed half of its investment bank, so force us to ring-fence and see what happens - has turned into more of a prediction.
Or perhaps what Hester made as a threat was taken by Osborne as a promise, and the two sides say they are now in agreement on the course of action.
The sale and run-off of non-core assets, first set out in early 2009 at the start of the RBS's three-to-five-year recovery plan, meant a fifth of the balance sheet was to be non-core, and the balance sheet was to be halved in size.
That's why RBS sold off a lot of business in Asia, much of it inherited with the ABN Amro purchase, so that it could retreat to the major financial centres.
Then there was its Sempra commodity traders, and assets from its airliner leasing business to more than 900 pubs, plus the Priory Clinic.
Balance sheet
A balance sheet that peaked at an eye-popping £2.2 trillion at the time of its bailout is now down to £1.5 trillion.
More than one trillion of that (that's one million million, by the way) is in the UK. So it's argued that RBS will still remain humongous, even once it's scythed down to size.
It means part of the investment bank operation, much of it in London, will be slimmed down or sold off.
There may be no direct impact on Scottish operations, which are more closely linked to the retail end of the business. But once the investment bank is smaller still, will that still justify the scale of headquarters function at Gogarburn, just outside Edinburgh?
And what does it do the internal culture and morale of any company to be told that its days of global ambition are definitely over?
It doesn't sound a great way of attracting the best talent, does it?