'One in 20 Scots' is victims of stalking or harassment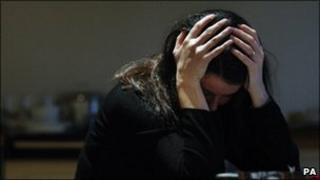 One in 20 adults have experienced some sort of stalking or harassment in the past year, according to a new study.
The Scottish Crime and Justice Survey suggested the scale of the problem in 2010-11 was the same as the previous year but down 1% from 2008-09.
It also showed younger people, aged 16-24, were more than twice as likely to experience stalking and harassment.
The survey suggested the risk of stalking and harassment was 5% for men and 6% for women.
It showed that in more than 60% of cases the victims knew the offender.
Stalking and harassment includes receiving obscene or threatening correspondence, receiving obscene, threatening, nuisance or silent telephone calls, someone waiting outside the home or workplace and being followed around or watched.
The survey found that 5% of adults in Scotland had experienced at least one form of stalking and harassment in the last 12 months.
It also looked at sexual victimisation and showed that 3% of adults, mostly women, had experienced serious sexual assault at least once since the age of 16.
The snapshot was published as part of a wider look at crime and justice.
A separate study showed 16% of adults who had at least one partner since the age of 16 had experienced abuse. Of those, a quarter went on to form subsequent abusive relationships.
Of those who had a partner or were in contact with an ex-partner in the past 12 months, 3% said they had suffered some form of domestic abuse over that time.
More than a quarter of them, mostly men, did not tell anyone about what had happened.
Wake-up call
Health Secretary Nicola Sturgeon said: "Domestic abuse is completely unacceptable, and the Scottish government continues to work with key partners to bring about an end to this intolerable crime.
"In particular, we have committed £55m to tackling violence against women, including domestic abuse during 2008-12, and we have also introduced a ground-breaking phone helpline for male victims of domestic abuse.
"Last year we also introduced a new offence of engaging in threatening or abusive behaviour to give greater protection to victims of domestic abuse, and send out the message: if you carry out this offence you will be met with by the full force of law."
Alison McInnes, Scottish Liberal Democrat justice spokeswoman, said: "It is shocking that domestic abuse still happens so frequently in Scotland. We need to remember that every one of these statistics relates to a family or individual afflicted by this abuse.
"The devastating impact that this abuse leaves in its wake has lasting consequences for families, children and our communities.
"We need to send a strong message that domestic abuse will not be tolerated in Scotland."
Scottish Labour's justice spokesman, Lewis Macdonald MSP, said: "The fact that one in 20 Scots have been subjected to some form of stalking or harassment in the last year highlights the scale of the challenge we face in tackling this inexcusable crime.
"These figures should be a wake-up call for the SNP government.
"With levels of domestic violence remaining stubbornly high and victims still scared to speak out, it is clear the SNP government must redouble its efforts to tackle and encourage more people to report these callous crimes to the police."