Slight drop in number of empty homes in Scotland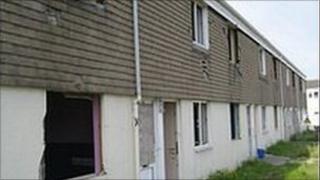 The number of homes left empty fell by about 600 last year, a study has said.
Bank of Scotland research suggested about 105,000 homes in Scotland were not being used in September last year.
However, Shelter Scotland said only a minority had been left unused for a long time, and claimed there were 23,000 privately-owned empty homes.
A spokeswoman for the housing charity said the re-use of empty homes needed to go hand-in-hand with building new affordable homes.
The charity has called on the Scottish government to raise a tax on empty homes to fund a programme of renovation.
The Bank of Scotland Vacant Property report said 105,649 homes were empty in September 2010, down 0.6% compared with 106,239 in the same month of 2009.
It claimed this meant about one in 25 houses was empty. This included second homes which were not in use, homes which belonged to someone who had died, and homes being renovated.
North Lanarkshire had the smallest proportion of empty homes (1.8%), followed by East Renfrewshire (1.9%) and Midlothian and East Dunbartonshire (both 2%).
The Western Isles had the highest proportion of empty property (13.3%), three times higher than the national average, followed by Argyll and Bute (11.6%).
The proportion of empty homes in Orkney was twice the average (8.7%).
Localised problems
The study said house prices tended to be about 3% lower than the Scottish average in areas with the highest rate of vacant properties.
However, Perth and Kinross bucked the trend, with house prices 21% higher than the average for Scotland, despite 5.8% of its homes being empty.
Nitesh Patel, housing economist at Bank of Scotland, said: "Whilst it is encouraging that the number of empty homes in Scotland has declined over the past year, it is still at a high level, particularly in the context of the country's ongoing housing shortage.
"Locally, the existence of empty homes remains a particular problem in a number of areas where the proportion of empty homes is well above the average for Scotland as a whole."
Kristen Hubert, from Shelter Scotland, said: "The 100,000 figure used by the Bank of Scotland includes property that is only empty for a brief period, between tenants or owners.
"What is really important is those which are empty for longer, and that problem is really in the private sector."
She said the Scottish government should use funds raised from a new tax on empty homes to fund a programme of renovation for Scotland's long-term private empty properties.
"What we need is a package of carrots and sticks," she said, with owners given an incentive to bring properties back into use, and a financial penalty for properties that unused for a long time.
Since 2005 councils have had the power to reduce the council tax discount for second homes. There are also VAT incentives to encourage the restoration of derelict homes.
The Scottish government is currently consulting on legislation to encourage owners to bring empty properties back into use as affordable housing.
The new laws would also give councils powers to tax empty homes to raise funding for affordable housing.
Housing Minister Keith Brown said: "The Scottish government is currently supporting a number of projects to tackle empty homes through its Innovation Fund, including an innovative project run by South Ayrshire Council to provide loans to help empty home owners renovate their homes so they can be made available as affordable housing.
"And we are currently consulting on introducing new legislation, which would allow councils to charge a council tax levy on certain long-term empty homes."