BA: long-haul and the short of it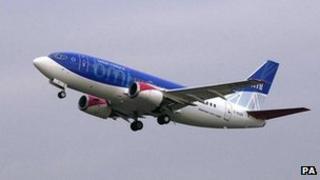 Willie Walsh says it's a great story for the UK: using BMI's Heathrow landing slots to boost long-haul links with emerging markets around the world. So that's good, isn't it?
But what if it's becoming more difficult to get to where those links take off?
Heathrow's high-speed rail link only goes to Paddington, and ground transport from Gatwick, Stansted, Luton and the City airport is far from ideal.
So is this really that good for all the UK, if parts of it find it more difficult to connect with the mother of all aviation hubs?
As the chief executive of British Airways extols the virtue of his binding agreement with Lufthansa to take on the main part of BMI with its Heathrow landing slots, Willie Walsh answers that there will be no shortage of capacity on links with Scotland.
But more BA capacity between Heathrow and Glasgow since March, when BMI pulled out of the route, does not necessarily mean as many flights, as much convenience or competitive prices. There's still BA competition from BMI on the Heathrow link with both Edinburgh and Aberdeen, but what happens when that ends?
Connecting the world
Walsh did point out, however, there are other competitors; the train, for instance, and Easyjet, though it doesn't use Heathrow.
The picture is often seen as the question of how Scots connect with the world. But more important for the economy is how the world connects with Scotland.
If long-haul flights land at Heathrow, but there are fewer short connecting flights, and they're at uncompetitive prices, then business travellers or tourists may decide it's not worth the bother or cost to use them.
That's why the regulators, whether in the European Commission or in London, could place conditions on the BA/BMI merger over the way it uses those Heathrow slots. It's much less likely to interfere in pricing, however.
The BA response (or IAG, to give the parent company its proper name) is that Lufthansa at its Frankfurt hub and Air France in Paris Charles de Gaulle are more dominant than BA will be with 53% of Heathrow's landing slots.
The difference is that Heathrow is constrained by the government's refusal, last year, to allow the building of another runway. That's what is pushing up the value of its landing slots, so airlines are required to maximise profit from each slot, and that is best done by long-haul routes.
That's got more talk of a big new airport in the Thames estuary. But for those linking by air with London, that looks to some like a solution for Londoners, rather than those wanting access to Heathrow's global connections.
Aberdeen's ticking clock
Meanwhile, the talks go on about the sale of BMI Regional division - based in Aberdeen, using smaller aircraft, while not using Heathrow. BMI management and its Lufthansa bosses have been negotiating with a group of aviation investors with strong Scottish connections to take on the division.
The talks were due to conclude by now, but they haven't. They go on, and the clock is now ticking.
Part of today's announcement is that if a deal isn't done by the time IAG/BA concludes the takeover of BMI, some time during the first quarter of 2012, then IAG takes on not only the main part of BMI, but also the regional division and the low cost BMI Baby. And the giant airline has no plans to keep the smaller divisions in the air.