Rail signal workers in Glasgow begin Christmas strike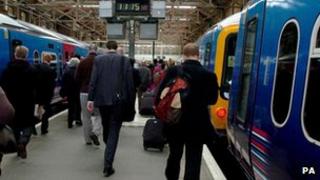 A reduced rail timetable is in place on some routes in the west of Scotland due to strike action.
Signal workers at a control centre in Glasgow are staging a 72-hour walkout in a row over career progression.
The Rail Maritime and Transport (RMT) union claims Network Rail managers have ripped up long-standing arrangements under which staff were "slotted" into a post when it became vacant.
Network Rail said it was confident of still running a comprehensive service.
The RMT said the "slotting" arrangement had been in place for more than 30 years.
The strike action began at 05:59 on Saturday and ends at 05:58 on Tuesday.
'No option'
RMT general secretary Bob Crow said: "RMT has tried to reach a negotiated settlement to this unilateral ripping-up of a local arrangement but unfortunately the management have refused to see sense and RMT members will not stand by while management tear up agreements and practices that have been in place at local level for decades.
"As a consequence of management's intransigence, we have no option but to go ahead with this strike action.
"RMT members are furious at this refusal to comply with a local arrangement that offers genuine career progression opportunities."
Mr Crow said the RMT remained available for talks aimed at resolving the dispute.
Network Rail has disputed the union's claims that staff being "slotted" into vacant posts was a long-standing agreement at the Glasgow centre
It insisted that the method had not been a recognised agreement for filling posts since railway privatisation in 1994.
'Individual grievance'
In a statement, Network Rail said: "The union claims that it has tried to reach a negotiated settlement - again, this is untrue.
"The RMT has to-date not sought any negotiated settlement. The issue has been escalated from an individual grievance to a strike ballot completely bypassing the collective bargaining arrangements in place.
"This dispute is simply about the RMT wishing to see posts filled based on seniority, while Network Rail believes in appointing based on merit and suitability."
The company said the dispute only affected 32 staff based at the west of Scotland centre but the union said it involved more than 50 of its members.
A spokesman added: "More than 95% of services across Scotland will run as timetabled and even in Glasgow, every station served by Glasgow Central trains will receive a service.
"Only a small number of local services have been reduced."