Scotland welcomes 2012 new year babies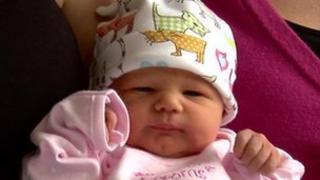 The first baby to be born on New Years Day in Scotland was a girl who came into the world at Southern General Maternity Unit in Glasgow.
Nicola Margaret Adam arrived at 00:02, weighing 6lb 6oz (2.99kg).
The first baby to arrive after the bells in Edinburgh was a boy who arrived at three minutes past midnight.
Joseph James Fleming, 6lb 2oz (2.78kg), was born unexpectedly at home to parents Nikki and Paul.
Mr Fleming said his wife, whose due date was 12 January, went into labour at 23:30 and he delivered the baby 33 minutes later in the couple's bathroom.
"It's not what you bank on - delivering your son three minutes after midnight on Hogmanay," he said.
"He was our first-footer."
Paul was on the phone to the emergency services staff during the delivery, who talked him through the process.
Paramedics arrived 20 minutes later, shortly after a neighbour who had sprinted up to the house after being contacted by his daughter - a doctor and a friend of the family.
The neighbour described it as a scene of calmness and serenity with a baby, mother and father all doing well.
Mrs Fleming and baby Joseph were taken to Edinburgh Royal Infirmary for a check-up, and were able to return home later in the day.
Joseph is the couple's second child. They already have a two-year-old daughter, Lauren.
'So tiny'
Scotland's first new year baby, Nicola, is a first child for her mother Margaret Adam, 19, from Govan.
She said: "She's gorgeous. She's so tiny.
"I chose Nicola because it's a nice name. I didn't want any of these funny unusual names. I just wanted her to have a nice normal name."
At Vale of Leven Hospital in West Dunbartonshire, parents Kelly Miller and David Smillie welcomed the arrival of Eva at 00:15, who weighed 7lb 6oz (3.35kg).
Seventeen minutes later, Alessandra Caraba, from Cambuslang, gave birth to a boy weighing 7lb 8oz (3.39kg) at Glasgow's Princess Royal Maternity.
Melissa Howieson and Keith Duncan welcomed a baby girl, Macey Lily Duncan, at 00:35 at Edinburgh Royal Infirmary.
At 12:38, Elaine and Lee Arnold, from Cairneyhill, Fife had a son weighing 7lb 14oz (3.56kg).
Just 42 minutes after the bells, Samina Ghafoor, from Tullibody in Clackmannanshire, gave birth to Elizah Fatima Mayo, weighing 10lb 8oz (4.76kg), at Forth Valley Royal Hospital.
Coincidentally, the family of the second baby born at Forth Valley Royal Hospital lives in the same road as Samina Ghafoor. At 02:34 her neighbour, Michelle Clark, gave birth to Peyton Louise Clark Piper.
Amanda Murdoch, from Wishaw, gave birth to a girl at Wishaw General Hospital at 01:02.
Eight minutes later, Kirsty Higginbotham, 21, from Inverness, gave birth to a boy weighing 7lb 10oz (3.46kg) at Raigmore Hospital.
Alan McIntosh Hird, weighing 8lb 3oz (3.71kg), was born to mother Mandy McLean at Aberdeen Maternity Hospital at 01:27.
Alice Kummerer was the first baby born in Tayside, arriving at 01:29 at Ninewells Hospital and weighing in at 8lbs (3.63kg).
Her arrival was welcomed by parents Mark and Julie from Auchterarder and brothers Calum, eight, and Matthew, five.
Other early arrivals included Billy James Slater Williams born at 02:41 to mother Joanne McArthur at Paisley's Royal Alexandra Hospital, and Noah James Wood, who was born to parents Jenny and Steven Wood at Borders General.