Global food for thought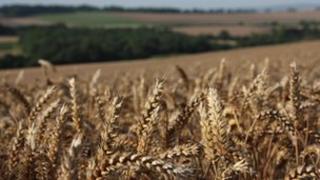 It's hard to see the far economic horizons, when there's so much clutter around the near ones.
But if there's one place that the economy will clash with global politics on those further vistas, it's on our plates.
Indeed, that's already begun. Writing this time last year, I reflected on the way the year was starting with big warning signs around inflation, particularly in food prices in developing nations.
That was one factor in the Arab Awakening. Less than two years before, food prices had spiked dangerously, before falling back.
The talk then was of bio-fuels eating up scarce grains, and climate change leading to harvest shortfalls.
Now, there's a more considered, longer-term view being taken on the sharing of power in the economics and politics of the food industry over the next decade and beyond.
The report from a team at the SAC, or Scottish Agricultural College - Alan Renwick, Mofakkarul Islam and Steven Thomson, of its rural policy centre - will inform this week's annual gathering of food policy experts at the Oxford Farming Conference.
Unfortunately, it's another of those assessments of British and European business that includes the word "grim" too often for comfort.
Chicken feed
What it shows is how much more dependent on food trade, both exports and imports, the UK is. On poultry imports, we're world leaders, importing 11% of the total amount traded. America leads on beef, while being by far the biggest wheat exporter, and the Japanese are world champion wheat importers.
For a long time, North America and Europe have been able to dictate the terms of food trade. But what this report indicates is how much that's changing.
Once a world power in agriculture - punching well above its size - the UK is reckoned now to have less agricultural power in world markets than Russia or China, and it's forecast to slide significantly in the next 10 years.
Trade agreements are being struck only on terms which Chinese and Indians negotiators are content, to protect their own smaller-scale and often poor producers against wild fluctuations in price.
That much is noted about the shift of power to Asia on so many fronts.
But there are other trends flagged up in this report that point to diminishing UK and European clout.
Technology developments
This is partly caused by a falling share of exports from Europe, due to change in the Common Agriculture Policy, and partly because this continent lacks the raw materials for energy, fertilizer and, indeed, the land and water, with which to continue feeding itself - not without significant changes in productivity, efficiency and investment in new technology, conclude the SAC researchers.
But that brings to mind the hope some hold out for technology developments, such as genetically-modified crops, and the role in delivering them of the agri-business giants.
And that's where this report says the UK still has continuing clout.
After the US, with more than a quarter of the world's agri-business giants, Britain comes next, followed closely by France and Germany (It may have slipped into sharing second place since these figures were compiled, and since Kraft bought Cadbury's).
There's Unilever, for instance, with the third biggest turnover of the world's food - nearly US$60bn in 2008.
And there's Tesco. It's the world's second biggest retailer by turnover, but a long way behind Walmart, US-based owner of Asda and much besides.
Significantly, there are great tensions around the opening up of the Indian retail market to such international companies, with a block placed on liberalisation late last year, but the battle continuing.
World markets
This 'Power in Agriculture' report highlights estimates that only 10 companies are responsible for more than 40% of the global retail market, four companies control 75-90% of global grain trade, seven companies control virtually all fertiliser supply, five companies have more than two-thirds of the world's agro-chemical market, and only three companies control nearly half of the proprietary seeds market.
If these firms can be said to give power to their headquarter countries (a contentious assumption), then Britain still wields power in determining world markets. But by being exposed to these few transnational companies for inputs and for markets, it makes British farmers all the more vulnerable to world trends in farming.
And that's where the tensions behind these trends come close to home.
If Britain's clout is best exercised through UK-based transnational companies, and these companies have lobbying power in Britain, then the country has to find a balance close to home between these companies and the interests of farming producers and of consumers.
And that balance is being altered with each encroachment of the supermarket giants into supply chains and high streets.
Our spending choices are partly the driving factor that gives these companies their market power, but their position is such that in many cases, our power of consumer choice is being diminished.