Hundreds across Scotland have third night without power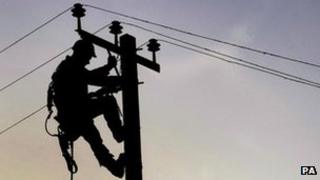 Hundreds of householders in Scotland have endured a third night without power after Tuesday's violent storms.
Scottish Hydro said 800 customers remained cut off across Argyll and Bute, after a series of faults had left 9,000 homes without electricity.
A spokesman said supply was restored to most householders by 19:45 on Thursday.
Scottish Power said 950 of its customers were without power overnight, but engineers were making good progress.
It said it had offered hotel accommodation to customers who could not be reconnected.
Meanwhile, Scottish Water confirmed power was restored to the sewage pumping station at Bishopton, in Renfrewshire, on Thursday evening.
Loss of electricity at the plant resulted in waste pouring into the local river system.
Scottish Hydro also said it had contacted all of its customers without power, and hot food and accommodation had been provided where appropriate.
Argyll and Bute Council leader Dick Walsh praised council staff for their efforts to help affected residents.
He said: "Our communities are pretty resilient and are used to coping with bad weather.
"One day without electricity is difficult but when it drags on into two or three then it becomes a serious problem.
"People who could cope for a short period find it increasingly difficult to get by, so the number of vulnerable people increases.
"We've used all of our resources to help people, in some cases going door to door to make sure residents are well.
"And we've been working with the power companies, police and voluntary sector. Everyone has pulled together to help make a difficult situation more bearable."
At the peak of Tuesday's storm, more than 100,000 households were left without electricity and members of the public were warned against travelling if their journey was not essential.
Gusts of 102mph were recorded at Blackford Hill in Edinburgh, with winds reaching 97mph in Bishopton and 91mph on Islay.
A BBC1 Scotland programme, Storm Force, is being shown on Sunday at 17:35. It will be looking back at the week's bad weather and the help people affected can expect.