Private clinics in Scotland used PIP implants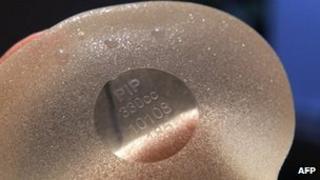 About 4,000 breast implants involved in a health scare have been used in Scotland, according to the Scottish government.
But Health Secretary Nicola Sturgeon said there were no records of the PIP implants being used by the NHS.
A UK review was ordered following conflicting data about the risk of the French-made implants rupturing and leaking silicone into the body.
It concluded there was no evidence to support routine removal.
The Scottish government said the "vast majority of, if not all of" PIP implants in Scotland were used by the private sector.
It based its information on figures released by the UK's Medicines and Healthcare products Regulatory Agency (MHRA).
Ms Sturgeon said Scottish women with concerns would be offered advice and the option of removal if necessary.
It is thought that about 40,000 British women have the implants. Private clinics fitted 95% of the implants, mostly for breast augmentation, with 5% fitted by the NHS.
The French authorities have offered to pay for implants to be removed due to a high risk of them rupturing and their use of non-medical grade silicone.
Czech and German health authorities both recommended on Friday that women in those countries with PIP implants should have them removed.
Earlier MHRA confirmed that its advice to not recommend routine removal of PIP implants remained at present.
The UK government has said that concerned women given the implants on the NHS would be able to have them removed for free, with private firms expected to offer the same deal.
Ms Sturgeon said: "We have been given expert advice that there is no evidence for routine removal of PIP breast implants although more evidence is needed and is being gathered.
"However, I completely understand the concerns women who have had PIP implants will have and the anxiety they will be experiencing. That is why it is right that the NHS offers advice and support where appropriate.
"We have no records of PIP implants being used by the NHS in Scotland. However, boards are continuing to check their records and if a woman does have a PIP implant fitted by the NHS they will be contacted, offered a consultation and, if clinically necessary, offered removal and replacement."
She added: "I expect private surgery providers to take responsibility for their patients and offer the same service.
"Where a private provider is no longer in operation or does not offer appropriate care, the NHS will support removal of implants where that is the clinically appropriate course of action."
The Scottish health secretary said patient safety was the top priority and urged any woman who was worried to contact their surgeon or GP for advice.
She said an advice line was also available for Scottish women with concerns about their implants. They can contact NHS Inform on 0800 22 44 88.