Scottish Parole Board frees 48 life prisoners early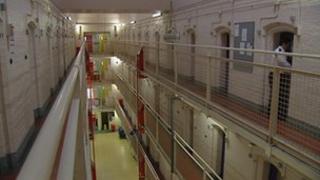 Forty-eight prisoners serving life sentences were released from jail early last year by the Scottish Parole Board.
Its annual report showed 220 prisoners serving life terms applied for parole, with members considering a further 43 cases from the previous year.
The figure is the lowest for four years.
But the report said there was a rise in the number of prisoners recalled to jail because they breached their licence conditions.
The board also freed 170 prisoners serving fixed terms - 28% of those who applied for parole.
The main criterion for deciding whether a prisoner can be released early is when a tribunal can be satisfied it is no longer necessary for the protection of the public that he or she should continue to be held behind bars.
Public safety
In the cases of life prisoners applying for parole, the tribunal is headed by a senior legal figure, including serving judges or sheriffs.
No lifer granted parole had served less than seven years - and the vast majority had been in jail for more than 10 years before their release.
Chairman of the Parole Board Sandy Cameron said: "Public safety is the Parole Board's number one consideration. Once again I believe that the information in this year's report shows that the decisions we take are based upon considered judgement."
He added: "The vast majority of those released on parole abide by their licence conditions and stay on the right side of the law."
All Scottish prisoners given fixed-term (determinate) sentences of more than four years can apply for parole after serving half of their time - and are automatically released after two-thirds, although they would then be subject to licence conditions.
Extended sentences
A total of 606 determinate sentence prisoners applied for parole last year, and 170 were recommended for release.
The report said 73 prisoners who had been granted parole were recalled to custody, and 117 who had been released at the two-thirds point of their sentence were subsequently sent back to prison.
It also highlighted an increase in the number of prisoners given extended sentences - meaning they are subject to supervision for a number of years after they leave jail - who have breached licence conditions and have been returned to jail.
Mr Cameron said: "There is little information as to why, but this is a matter which would benefit from detailed research so that we can learn more about why a minority find the transition back into the community difficult."