Kinross hotel boss jailed over chef stabbing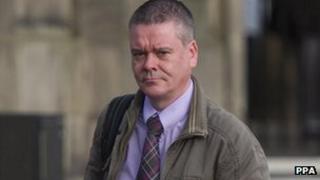 A Kinross hotel manager who stabbed a chef six times after a staff night out has been jailed for 15 months.
Demi-chef Christiaan Opperman was stabbed in the back, the shoulder, the elbow and the leg during a fight with leisure resort boss Scott Lowe.
Sheriff Michael Fletcher said he had no option but to jail first offender Lowe because he had deliberately gone to the hotel kitchen to get the knife he used.
Lowe, 43, earlier admitted attacking his colleague on 29 April 2011.
Perth Sheriff Court was told there had been a run-in between the men two years earlier which resulted from Mr Opperman's involvement with Lowe's daughter, who also worked at the hotel.
The two men worked together at the Green Hotel and Leisure Resort in Kinross.
The sheriff told Lowe: "This was an extremely serious offence, particularly because before the incident happened you deliberately armed yourself with a knife.
"The reason for the court's concern becomes clear because you ended up stabbing the victim six times altogether.
"Fortunately for you and the victim the wounds were not as serious as they might have been."