Wishing you a very mobile Christmas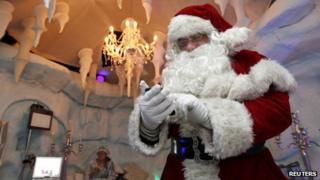 We're getting a better idea of the way Yuletide trading looked last month, and the final week before the holiday was being described as "dazzling" and "fantastic".
They're not words you often hear from retailers these days. But an absence of heavy snow, plus an extra Saturday of pre-Christmas trading help the figures look relatively good.
Last week, John Lewis, Waitrose and Next showed the value of investing in online shopping. Marks and Spencer suffered the consequences of abandoning electronics, and made it into positive territory with its food sales. Apparently, customers are moving aspirationally to more upscale turkeys.
Yesterday, it was Sainsbury's turn to be slightly ahead of expectations, again helped by online shopping and delivery, and its premium range of food. Today, it's over to Tesco, with good online figures, but pretty terrible figures for its UK sales overall. It's pulling back on UK expansion, which may come as a relief to rivals.
Gregg's was yesterday raving about the final week of sales as well, with 7.5 million mince pies sold (the sweet variety) through the festive season.
But today, like-for-like sales (those stores trading through the past year) look bad for Argos, Halfords, Mothercare, Homebase and Thorntons.
Intense irritation
A year ago, Christmas had just seen a bumper time for gift vouchers. They were, after all, easier to take home on icy pavements.
This year, we're told the trend was towards smart phone shopping.
Survey findings by one retail behaviour research company, issued today, show a surge in the use of phones to research prices while out shopping.
Much to the intense irritation of some shopkeepers I know, people stand in stores checking prices elsewhere - often at online sites where they lack the overheads of keeping stock or displaying in shops.
Intersperience found that one in three people used their phones to check competitors' prices, look for reviews of products or search ratings and check specification.
Nearly one in five told the company's interviewers that they had called up rivals' websites while standing in a high street store looking at the item they wanted to buy.
Of those people, three in 10 (so about 7% of people in all) went on to purchase those gifts online from somebody else's website, while standing in the shop.
Retail frenzy
The other trends picked up in the survey of 1,000 people, about their shopping in the week before Christmas and the week after, were towards use of discount coupons, and buying presents cheaply off-season to store them until December. Nearly four in 10 people did one of those.
Internet spend was up, according to these people's recollection of their spending, by £25 to £188, while average in-store spend was down £13 to £166 per customer.
Yet the Cumbria-based market research company found the proportion of people buying online - and this seems a bit odd - fell from 81% in 2010 to 71% in the Christmas retail frenzy just past.
Strange too was that younger shoppers were more likely to buy in-store, citing concerns about delivery on time.
Nearly two-thirds of British shoppers - according to the Intersperience survey - said their concerns about the wider economic situation had affected their Christmas, up from 48% the year before.
That doesn't mean it subdued spending, mind you. It may have affected it with that "dazzling" final week splurge - while stocks, jobs and salary slips still last.