Oil well that ends well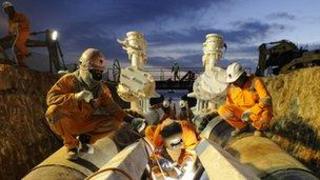 You can get blase talking billions.
And in India, you are constantly reminded of the presence of 1.2bn citizens, the pressure of numbers moving ever more people into remote and desert areas which were barely populated until recently.
One of those is the Thar desert in Rajasthan, near the Pakistan border.
It is said to be the world's most densely populated desert, with 3.5m people in an area the size of Belgium.
Many of them scratch a living out of the sand and scrub, and live in huts made from local shrubs, which look like they offer flimsy resistance when the monsoon comes.
For many, a very modest living can be made from grazing goats, but increasingly, it's in working for or supplying the bonanza taking place in the heart of the area.
That's where lots more billion-sized numbers come in.
It's where Cairn Energy bosses, visiting India this week, seem nonchalant and relaxed about the astonishing scale of what they achieved.
And they take some satisfaction from the impact corporate largesse is having on the local community.
Working with the World Bank, they are funding mobile health clinics, job training and help in setting up a dairy co-operative.
Six billion barrels
Amid all the humungous numbers, perhaps the most remarkable is that it has been done by 100 or so staff at the company's headquarters in Edinburgh's Lothian Road.
From there, the company powered into the FTSE 100 on a vast find in the desert of Rajasthan, west of Delhi and near the Pakistani border.
It reckons there's at least six billion barrels of oil under the sands.
At least one billion of those barrels are defined as 'proven and recoverable'.
If that produces for the next 40 years, at today's oil prices, the fields will deliver $100bn in revenue and other earnings to Indian government.
It ought also to deliver some very healthy profits to the owners of Cairn India, the company spun out by Cairn Energy, based in Delhi and listed in Mumbai.
Its assets were most recently valued (and the oil industry prefers the bigger impact you get with US dollars) at $5.6bn, with profits in 2010 just topping the £1bn mark.
Cairn India is sitting not only on that oil asset but a colossal infrastructure of wells, pipes, a vast processing plant and 400 miles of pipeline to refineries near the coast, heated to ensure a free flow of the black stuff.
It's all been put there in the eight years since the big strike in what became the Mangala oil field.
Slim and start again
Cairn Energy won't be getting so much of that profit though.
The Scottish company is voluntarily powering its way out of the FTSE100: "delivering shareholder value, slimming down, and starting to grow again".
This is on the business philosophy that it's easier to grow a small company quickly than to get the same expansion out of a large company.
And it helps deliver that strategy when they can survey the world's oil and gas prospects for new frontiers, with the calling card of having delivered the dream that keeps every oil prospector drilling.
The slimming down strategy has been to sell 40% of Cairn India, allowing the former parent company to distribute to shareholders a £2.2bn jackpot in the middle of next month.
Faith in family
That stake, along with control of the firm, has gone to Vedanta, owned by Indian metals tycoon Anil Agarwal, who also took on Petronas' former shareholding to get over the 50% line.
So will Cairn continue to be among those enjoying the profits?
Possibly not. It's sitting on 22%, valued at around $2.5bn, or £1.4bn.
It's lost control of the company, and Anil Agarwal is ringing some changes.
Included among those are the appointment of his brother as chairman of Cairn India and his daughter, Priya, to her first board position.
That's putting a lot of faith in family when they're looking after such a valuable asset, in a company that doesn't have much history in oil exploration and production.
That lack of control may accelerate a drawback and perhaps a complete withdrawal by the Scots from Cairn India.
At an extraordinary general meeting at the end of this month, the company is seeking shareholder permission to place blocks of shares on the open stock market when the time and price looks right.
That approach has tax advantages over a direct trade sale.
Such an exit is a possibility being considered with a striking lack of emotional attachment to the monumental achievement that flares gas, its shiny new pipework glistening through the heat haze of the Rajasthani desert - pumping the fuel for the rapid growth of this emerging economic giant.