Train strike ballot over driver's 'sickie' to watch Rangers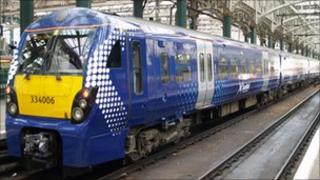 Train drivers are being balloted on strike action in support of a colleague who was disciplined for going to a football match after calling in sick.
The driver was demoted after ScotRail bosses discovered he had been in Germany watching Rangers.
He was subsequently demoted, a punishment which the union say resulted in a pay cut of almost £20,000.
ScotRail said the driver's actions were "unacceptable" and that possible strike action was "deeply disappointing".
The 47-year-old driver called in sick in November while he was in Hamburg watching a friendly match.
'Common sense'
Aslef said the demotion was completely unjust and is preparing to ballot 1,100 members at ScotRail on whether to take industrial action in support of the driver.
Aslef's Scottish Secretary Kevin Lindsay told BBC Scotland: "This is the first mistake he has made in 21 years. He's paid a very heavy punishment for this and we think this is excessive by ScotRail.
"We are asking ScotRail to reconsider that decision. Failing to do so, the Aslef membership will get the opportunity to decide whether they believe ScotRail was correct or their own member was."
A ScotRail spokesman said: "The driver's deliberate failure to attend work meant trains were cancelled. That is unacceptable - to our customers, who want a reliable service, and to the company.
"It is deeply disappointing that our passengers could be made to suffer - yet again."
He added: "We have sent out a strong message that such behaviour will not be tolerated.
"Our drivers are now under pressure from union officials to defend the indefensible. It is to be hoped they will ignore the rhetoric and that common sense will prevail."
The result will be announced next month.