Going global, on India's terms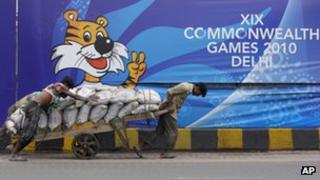 To drive in India, you need "good brake, good horn and good luck".
You'll also need a good driver - and it was Pandey, one such negotiator of Delhi's anarchic roads, who offered this sage advice with a big smile.
As we set off into the chill and thick city fog, he also offered up a prayer to Ganesha, the friendly, elephant-headed god and remover of obstacles, of which Pandey faces many.
I've been in India this week, to report on its trade links with Scotland - about its thirst for whisky, and the fear that opening up the market to Scotch could be "a catastrophe" for domestic distillers of what they call here Indian-made foreign liquor.
I've been to the desert, near Pakistan, where Edinburgh firm Cairn Energy is selling up, distributing more than £2bn to its shareholders, and leaving behind a big legacy.
In only eight years, Cairn has gone from oil discovery to a giant processing plant, bringing its second field on stream this week.
But it's also become a focus in India and beyond for concerns about the country's resistance to foreign economic influence, because its long-delayed sale of a controlling stake in its Indian assets showed how thrawn and sclerotic India's government can be with international investors.
Vodafone has faced a similar problem, for very different reasons. It avoided tax by buying a large Indian asset through an offshore tax haven, which the Indian tax authorities sought to claw back through changing the law retrospectively.
Only yesterday, in Delhi's High Court, did the company win a five-year battle against a £1.5bn tax bill.
The top official in the commerce department and India's chief trade negotiator, Rahul Khullar, is disarmingly candid about the general problem, if not those specific instances.
"In the course of last year, it was annus horribilis for us," he told me. "It was a very bad year. Our reputation in international markets took a bit of a beating.
"Our credibility took a bit of a beating, and most important, political initiative for reform and change was decelerated, and that sent bad signals to investors.
"So in terms of answering, did we do enough? Not nearly enough."
Calculated risk
The problems for foreign investors have been explained to me in various ways.
India will get things sorted out, says one, but only in its own sweet time - probably at the last minute.
The Delhi Commonwealth Games were like that, only just making it.
Indians still cringe about the international embarrassment of that last minute rush.
The chief organiser has been cringing in jail for nine months on corruption charges, until released on bail this week.
Indians are taking a calculated risk, says another expert eye on Delhi.
Most know they need foreign investors, but they also know access to the country's resources and, above all, a market of 1.2 billion people should come at a price, not always financial.
So be aware that things will have to be done differently. McDonald's, for example, sells the same iconic, standardised Big Mac almost everywhere else, but in India - no beef, more spice.
A global product, on India's terms.
Indian itch
The other theme I've been exploring this week is for a programme to be broadcast in the spring.
I've been asking what the Indian economic boom times mean for us, and above all, for the work we do, not least at a time when our economy looks bust.
I've been a visitor to this country for 30 years, having found my first visit lodged the country under my skin, requiring me to return occasionally to scratch that Indian itch.
And I've been stunned at the changes here, particularly among the young, educated, above all the women, for whom the 21st Century is looking quite appealing.
Pandey drove me to meet some of them in Noida, a satellite town south of Delhi, and a focus for India's new, digital economy, where Tata Consultancy Services sells these young science graduates' analytical skills to pharmaceutical researchers in the west.
This is no call centre. This £32bn Indian company alone employs more than 200,000 people across a range of such IT-based work.
Its average employee is 27, with a starting salary around £3,000, eager to get on and to become more qualified.
If you can digitise it, they can handle the work, and they're moving rapidly to grab the more skilled end of the market.
Ramshackle democracy
In tackling our jobs challenge - far away, on the edge of crisis-hit Europe - it's worth noting that these are the people shaping the global economy and our future.
How long before India's number one in the world, I asked one young woman at Tata.
"We don't have to be number one," she said with a shrug.
"We can share it out with others, but we'll be up there in a few years." How many years? "Maybe five to ten."
It's striking that, barring war or environmental shock, India is on track to sustain big growth figures for three or four decades.
And unlike China, it's got the ramshackle but resilient democracy with which to resolve the tensions that brings.
India's got what it takes - so long as it also has good brake, good horn and good luck.