Holyrood security hall 'bonkers', says Lord Steel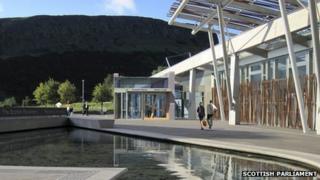 The former Scottish Parliament presiding officer Lord Steel has described plans for a new security hall at Holyrood as "more than bonkers".
The Liberal Democrat veteran, who was elected to the post at the start of devolution in 1999, made the remark in a letter to the Scotsman newspaper.
Edinburgh City Council granted planning permission for the new security entrance earlier this week.
Parliament bosses say the proposed hall was recommended by police.
Lord Steel's comments came in a letter about the independence referendum.
Expressions of interest
He was reiterating points he had made in an interview with House Magazine in which he said that the suggestion that the chancellor George Osborne should lead the "No" campaign in any referendum was "bonkers".
In the closing line of his letter to the Scostman he added: "Whilst writing I also think the proposed security extension to the Miralles building of the Scottish Parliament is more than bonkers."
The Scottish Parliamentary Corporate Body (SPCB) made a planning application to Edinburgh City Council for permission to build the security entrance, in light of advice from Lothian and Borders Police and the parliament's security advisers, following the Glasgow Airport terror attack.
In a letter to MSPs last year the current presiding officer Tricia Marwick said the new external security facility would better screen people going into the building and help protect the 1,000 people who work there.
The proposal has already come under fire from the leader of the Scottish Green Party Patrick Harvie who branded it "costly and pointless".
lt is thought the new hall would cost at least £1m.
Parliament bosses are now seeking expressions of interest from building contractors.
A final decision on proceeding with the facility will not be taken until a tendering exercise has been completed and the SPCB is satisfied that the cost and timescale for construction are acceptable.