Scottish councils could get power to force house sales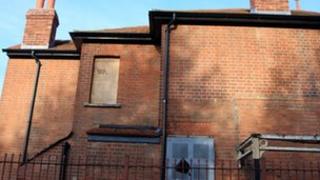 Councils could be given the power to sell empty homes as part of measures to cut the number of vacant properties, the Scottish government has indicated.
There are estimated to be 25,000 long-term empty homes across Scotland.
The Scottish government is to work with Shelter Scotland and the Scottish Empty Homes Partnership to develop proposals.
These could include an enforced sale power, where the local authority could apply for powers to sell a property which has been empty for a long time.
This power would only be used where attempts at working with an owner had not worked and it was deemed in the public interest to ensure the home was not left empty.
'Negative impact'
Housing Minister Keith Brown said: "Empty homes are a scar on our landscape that can have a negative impact on the quality of Scotland's cities, towns and villages.
"Many councils have indicated to us and to Shelter that more enforcement powers are needed to tackle certain empty homes which have in some cases been empty for many years.
"That is why we plan to consult on greater enforcement powers for councils to give them more tools to deal effectively with the most problematic long-term empty homes."
The minister also said councils were being encouraged to consider using council tax revenue from empty and second homes to develop an empty homes loan fund, to provide interest-free loans to help owners bring properties back into use as affordable housing.