Supermarket Asda to open three new Scottish stores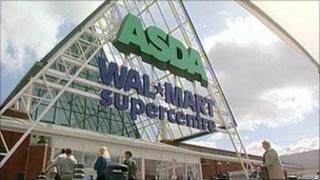 The UK's second biggest supermarket chain, Asda, has unveiled plans to create three new stores across Scotland.
Twenty five Asda supermarkets are to open across the UK, creating around 5,000 jobs.
The three new Scottish stores will be in Inverness, Tain in the Highlands and in Larkhall, South Lanarkshire.
The supermarket also says it intends to replace a depot in Grangemouth, near Falkirk.
It is thought the replacement depot in Scotland will allow for increased delivery of groceries to Scottish and Northern Irish stores.
Construction work has already started on the store in Inverness.
The £500m UK expansion drive will see the refurbishment and extension of 43 existing outlets and three new depots.
Asda is based in Leeds and currently employs 180,000 staff across 528 stores and depots in the UK.
Asda is the UK's second biggest supermarket chain behind Tesco. It is owned by the world's biggest retailer, US firm Walmart.