Higher English 'will include Scottish writing'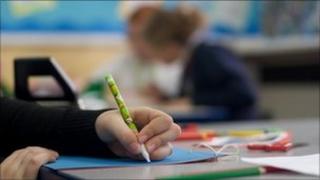 Answering a question on a Scottish piece of writing is to become compulsory in Higher English under plans from the Scottish government.
The change is scheduled to come into effect from 2014.
Education Secretary Mike Russell said he wanted young people to be in touch with Scotland's literary tradition.
As well as writers such as Robert Louis Stevenson and Lewis Grassic Gibbon he would like them to study contemporary authors such as Irvine Welsh.
The plan is for Scottish writing and poetry to become a compulsory part of Higher English.
Mr Russell wants all pupils to answer at least one question on Scottish texts.
Liz Lochhead, Scotland's makar or official poet, said it was hard to think of another country which did not offer students these opportunities.
She welcomed the change which she said would not require pupils to reflect a "chauvinistic or uncritical view" of Scottish society.
The education secretary said: "Scotland's contribution to literature is marked down the generations, Burns, Walter Scott and Robert Louis Stevenson have provided work that has lasted the test of time, along with contemporary writers like Irvine Welsh and Liz Lochhead.
"We want our children and young people to have the chance to learn about our literary tradition and to inspire the future generations of Scottish writers."