New EIS general secretary Larry Flanagan to replace Ronnie Smith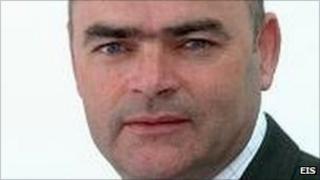 The new general secretary of the Educational Institute of Scotland (EIS) teaching union has been named.
Larry Flanagan will take up the position in April after Ronnie Smith retires.
Mr Flanagan is currently the principal teacher of English at Hillhead High School in Glasgow.
EIS president Alan Munro said: "His experience and suitability are beyond doubt as he has proven in his previous roles."
He added: "Larry takes on this post at a critical time for the EIS and for Scottish education which face unprecedented challenges on a number of fronts.
"I and the Council of the Institute are clear that Larry will be well able to meet these challenges in the years ahead, making full use of his considerable leadership skills."
Mr Flanagan said: "I am delighted and honoured to have been selected as general secretary of the EIS.
"Ronnie Smith, our current general secretary, will be a hard act to follow but I look forward to the challenge immensely."
Mr Smith is standing down after almost two decades as the top official at the EIS.
He was one of the architects of the 2001 teachers' deal, which followed the McCrone review.
Mr Smith was a former teacher of Latin and Modern Studies in West Lothian.