'More effort' needed on Scottish climate change targets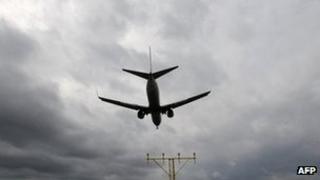 Scottish climate change targets will not be met without extra effort to cut pollution, experts have warned.
Legislation passed by Holyrood commits to cut emissions by 42% from 1990 levels by 2020.
But independent advisory body, the Committee on Climate Change (CCC) said its projections showed Scotland would not meet this reduction.
The Scottish government said it would be reviewing the current actions it was taking to reduce emissions.
Scotland's climate change target is more than the UK government's, which stands at 34%, and double that of the EU's, which is 20%.
The CCC progress report - its first on emission reductions in Scotland - follows a finding by public spending watchdog Audit Scotland that the cost of meeting the ambitious emissions cut could top £11bn.
Total emissions in Scotland fell 7% in 2009, though much of this reduction is probably down to the recession, the report's authors found.
They also said pollution was "likely" to have risen in 2010 - partly as a result of the cold weather.
Projections in the report suggest that levels in 2020 "will be 38% below 1990 levels".
'Raise game'
The report stated: "Meeting the target will require a tightening of the EU ETS [Emission Trading Scheme] cap, or additional effort to reduce domestic emissions."
The CCC has suggested agriculture and land use may have "further scope for emissions reduction". However, it said all sectors should be examined to see if further cuts are possible.
Tom Ballantine, chair of Stop Climate Chaos Scotland, said: "This assessment of Scotland's progress in cutting greenhouse gas emissions makes it pretty clear the government must raise its game.
"The committee concludes that climate emissions have mainly fallen due to the recession and not as a result of government policy. Most worryingly, the report says that rather than locking in the reduction, emissions were back on the rise in 2010.
"This is particularly true in the transport sector, highlighted by the committee as an example of where new policy effort is needed from the Scottish government."
Target review
Overall emissions had fallen by almost a third since 1990, with reductions in all sectors expect for a 4% rise in pollution from transport - including international aviation and shipping, according to the committee.
David Kennedy, chief executive of the CCC, said "good progress" had been made, but added: "Going forward, it will be important for the Scottish government to continue to support the implementation of policies at both UK and national level to further cut emissions, resulting in climate change and wider economic benefits."
Scottish Climate Change Minister Stewart Stevenson said: "I am pleased to note the committee's acknowledgement of the positive contribution the policies in our first Report on Policies and Proposals (RPP) have made to emissions abatement.
"Our next RPP, which is due later this year, will also include a review of the current actions we are taking to reduce emissions."