Report reveals £1bn repair bill for NHS estate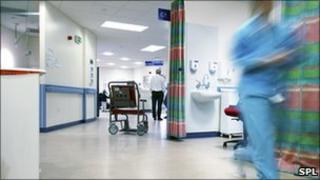 Hospitals and other NHS buildings in Scotland are having to cope with a £1bn bill for repairs going back several years, a report has revealed.
The government-published State of the Estate warns a maintenance backlog has left some buildings in poor condition.
Health officials say £300m of funding and the disposal of old buildings will halve the outstanding bill.
They also say a fifth of the costs relate to premises which don't deal with patients.
The State of the Estate Report is the first ever comprehensive survey of the NHS estate.
It contains a detailed plan of how the health service hopes to tackle the heavy maintenance costs being incurred at NHS buildings across Scotland.
It also confirms that more than £2bn of capital funding, and £750m of funding allocated through the non-profit distributed alternative to PFI tie-ups with the private sector, will be invested in new and existing NHS buildings over the four years of the spending review period.
Undue disruption
Planned investment to tackle the repair backlog, combined with the sale of some NHS buildings and normal maintenance spending, would put the outstanding costs at £535m.
The report said 69% of the NHS boards estate was in good physical state.
It said backlog maintenance costs arise from maintenance that has built up over a number of years and is now "giving rise to poor condition and performance".
The current backlog maintenance expenditure requirement for Scotland was estimated to be in the region of £1.01bn.
The report said: "It is an on-going challenge for the NHS to balance investment between that which is focussed on service improvement and development, and that which is necessary to ensure existing properties do not cause harm or undue disruption to service delivery."
About £175m of the repair bill related to buildings the NHS plans to dispose of in the next 10 years, according to the report.
The Scottish government has also allocated £300m, of the £2bn of capital investment being made available to the NHS, to be targeted on tackling the backlog maintenance.
Health Secretary Nicola Sturgeon said: "This report will help us to improve Scotland's hospitals - and patients will see the benefits of £2 billion worth of new fit-for-purpose facilities across all health boards, renovations to existing buildings and modern equipment.
"For the first time, we have a detailed account of the ongoing maintenance work needed on the NHS estate. This will allow us to set a benchmark from which to work from to continue to maintain our NHS buildings.
"It is vitally important that patients receive the best quality care in settings suitable for their treatment. That is why we are investing more than ever in the NHS estate."
The report was published as the Scottish government announced health boards would get £9bn in funding next year, most of which would pay for day-to-day running costs.