Lottery funds for Scottish domestic abuse projects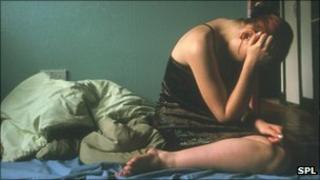 Families affected by domestic abuse in Scotland are to be helped by almost £6.5m from the Big Lottery Fund.
The money will go to projects which work with vulnerable women and families, with a nationwide project to support children.
Scottish Women's Aid estimates one in five women in Scotland endure domestic abuse at some stage in their lives.
There are currently 50,000 recorded incidents of domestic abuse in the country every year.
The funding of £6,495,000 is going to 18 projects to provide greater access to support services.
'Living with trauma'
Heather Coady, from Scottish Women's Aid (SWA), said: "This is a significant injection of cash towards an area of work that supports vulnerable women, children and young people living with the trauma of domestic abuse and recognition that this is an area desperately in need of funding.
"What is particularly impressive is that the Big Lottery Fund took the time to speak with a large number of experts working in this area and tailored this new fund to ensure that it has the most impact.
"This has the potential to make a significant difference to the lives of families living with domestic abuse across Scotland."
SWA has been awarded £367,109 to develop a nationwide Children Experiencing Domestic Abuse Recovery (Cedar) scheme to help families rebuild their lives.
One woman, Sarah, told BBC Scotland how she spent 17 years with her husband seeking to control all aspects of her life and her children's lives, with verbal and sometimes physical abuse.
She said: "It ended up I couldn't take it any more and so one day I got up and told him I was going shopping and took the kids with me and we went to the women's centre."
Sarah added: "Because of what he'd done to one of the children, you were waiting for him, it felt as if you were waiting for him to kill you."
She urged any woman in her position to make contact with Women's Aid so that the option of support is there and the option of a way out is also there.
Long-term future
Big Lottery Fund Scotland director Jackie Killeen said: "We know women who have been abused at home often go on to suffer from further emotional and physical problems and the sooner they can source effective support and help, the better their long-term future will be.
"It's clear from the response to our programme that women and children across Scotland need this support now."
Another grant of £549,740 is being given to Shakti Women's Aid to provide support for black/minority ethnic (BME) women, some of whom cannot access public funds due to being on spouse, dependent or skilled migrant visas.
The project's Girijamba Polubothu said: "In our experience a significant number of women who are experiencing domestic abuse are not yet ready to leave the family home due to their cultural and religious beliefs, social and practical barriers, fear of not being believed and hope that things will get better."