New Rangers Lite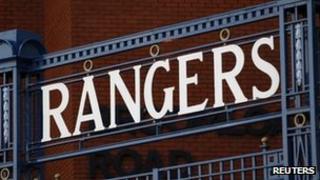 Even though we knew it was coming, the shock of Rangers being placed in administration reverberates well beyond Ibrox.
At least three clubs await significant payments from Rangers for transfers and gate receipts - Dunfermline, Hearts and Dundee United - and they will have to take their place in the queue of creditors.
But what about the broadcast rights? The rights for radio coverage of the SPL for next season onwards are being re-negotiated. The finances of the commercial radio stations have not been that great anyway, so they may choose not to roll over their arrangements.
The BBC has the national rights package for radio commentary, online and TV highlights, and the uncertainty over Rangers' future puts the corporation in a stronger negotiating position for next season's deal.
The big money is in live TV rights, which Sky and ESPN have already signed off from the start of next season - worth £80m for five years.
But a former SPL chief executive has told BBC Scotland that the contract is likely to include a break clause if the Old Firm clubs are not in a position to participate at the start of next season.
So if Rangers finds there's a long delay in getting out of administration, and its role in the SPL is in doubt, there could be doubt about that TV rights deal going ahead. And of course, that affects other clubs who depend on income from that contract.
If you stretch that hypothetical a bit further, it gives the other clubs an incentive to fast-track New Rangers (or Rangers Lite?) into the SPL for the start of next season.
It's the most obvious illustration of how much other clubs need the club to be revived, including its arch-rival at Parkhead.
'Mind-boggling and shocking'
As I write, fans are protesting outside Ibrox. They've had trouble with an inflatable banner, which is a metaphor for something, but I'm not yet sure what. The banner calls for answers from Craig Whyte.
Let's gloss over the fact that my colleagues in the BBC newsroom's investigations department have been asking questions of Mr Whyte's business practices for rather longer, and getting roundly abused by fans for doing so.
Let's look instead at the blame game. The choice is either to condemn former chairman Sir David Murray for overspending, building up debt and trying to get round tax liability by paying players through an offshore trust, or to blame Craig Whyte.
The evidence from yesterday's revelations make it clear that they can share the blame.
Sir David's legacy is well known, and has been blamed by Craig Whyte. But we now know that Craig Whyte has deducted PAYE income tax from payroll, and not passed it on to HMRC, while VAT has also built up, to a total of around £9m.
That's a rate of £1m per month additional back tax for every month that he's been in charge. Breathtaking.
Or as Alastair Johnston, the former chairman says, yesterday's events were "mind-boggling and quite shocking".
Blame game
He's been on BBC 5Live, giving an explanation of the larger tax bill which I had only heard portions of before. This is the £49m or so, which HM Revenue and Customs say they're owed for player payments paid through an offshore Employee Benefit Trust.
Asked if HMRC had said in the past that such an arrangement was OK with them, he made it clear that the tax authorities had not approved it. Instead, this was an arrangement strictly between Sir David Murray and the top players.
It was "orchestrated by Murray, all negotiations and interfacing was by Murray. Even after I became chairman, all negotiations came from Murray, with his advisers and financial people".
Mr Johnston said Sir David appeared to be taking the very best advice, from barristers and lawyers, and was confident the offshore payment arrangement would stand up to scrutiny.
You can conclude two things from this. The former directors are clearly pinning the blame for the 'big tax bill' on Sir David, but conversely, it looks like they were failing in their duty to protect the interests of the club and those who own the remaining 15% of shares.
Profoundly unhealthy
It's not hard to see why that happened. Sir David was ruthless in his use of power at the club, and it wasn't wise to challenge him or question him too closely.
This has been particularly clear to sports journalists across the media, for whom administration at Rangers may seem like a liberation. Anyone covering sports is under pressure to kow-tow to those who control the top football clubs. That doesn't only mean Sir David, and it doesn't only mean Rangers.
The big clubs know the sports media need access, and they control it to their advantage. Not being a sports journalist, it rarely affected me.
So I can say with some detachment that relationships have not been in the interests of good, open, inquiring journalism. And as the fans outside Ibrox today now know, it's not in the interests of fans to rely on club managers to tell it straight.
This has been a profoundly unhealthy relationship. And while there are many hopes that good can come out of the Rangers financial debacle - including a rejuvenated, financially healthy club - this may be a time to set a course for a more open approach.