Rail network north of Perth 'not fit for purpose'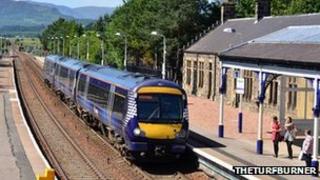 The rail network north of Perth is "unfit for purpose", according to Scotland's Chambers of Commerce.
The business group was responding to the Scottish government's consultation on the next railway franchise.
It said links to the Highlands and north-east should be improved, including direct services across the border without having to change trains at Edinburgh.
The current First Scotrail franchise ends in November 2014.
First Group has operated all domestic rail services in Scotland and sleeper services to London since 2004.
The Scottish Chambers of Commerce argued the next franchise should be at least 12 years long to allow for long-term planning.
Wi-fi access
Its response recommended flexibility about closing services and stations that were barely used and called for improved on-board wi-fi access and electronic passenger information.
The submission stated: "The Scottish rail network is essentially unfit for purpose north of Perth at present."
It argued business users of rail services wanted trains from Aberdeen, Inverness and Dumfries that reached Edinburgh and Glasgow in time for 09:00 meetings.
The chambers criticised inconsistent provision of catering and business class seating, and said that the tourism industry required better luggage and cycle storage space for visitors to Scotland.
They suggested rail operators should learn from airlines in the way they managed pricing to fill seats, in place of two fares for peak and off-peak times.
The proposal also urged government to tackle inefficient, underused services.
"There are some stations in the Scottish rail network that are serving very few customers," it said.
It claimed one station was used by only eight passengers in 2002-03, rising to only 90 in 2009-10, but the station was not identified.
'Little need'
Liz Cameron, chief executive of Scottish Chambers of Commerce, said: "The franchise must allow the franchisee the freedom to respond to customer demand and to achieve the best match between services and demand.
"At present, too much resource is being deployed to service assets for which there is little customer need."
A Transport Scotland spokesman said: "Offering the best possible experience for passengers throughout Scotland has been at the heart of the consultation, and that includes our commitment to rail services in the north.
"We have already invested considerably in new rolling stock and future requirements could be included with the 2014 franchise.
"The Scottish government has made clear its commitment to improving connectivity on trains with confirmation that a pilot project will be put in place shortly.
"Although it is too early to comment on specific responses, ministers are already preparing to make positive announcements on the rail service in the coming weeks."