Rangers ex-chairman questions Craig Whyte creditor status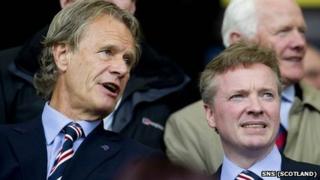 Ex-Rangers chairman Alastair Johnston has written to the administrators, asking if Craig Whyte has met the obligations set out in his takeover.
The Ibrox club went into administration last week over an unpaid £9m tax bill.
On Tuesday, the administrators and Mr Whyte confirmed that money from future ticket sales had been used to pay off an £18m debt to Lloyds Banking Group.
Mr Johnson said Mr Whyte should lose secured creditor status and the debt Rangers owes him should be written off.
Mr Whyte bought Sir David Murray's majority shareholding in Rangers in May 2011, agreeing to pay off the £18m the club owed to Lloyds Bank Group.
Mr Johnston wrote to administrators, citing a written promise from Mr Whyte, which said that breaking the purchase terms would automatically extinguish the £18m Rangers debt which the financier took over from the bank.
New ownership
It was disclosed on Tuesday that Mr Whyte's loan to Rangers was not funded with his own money but with another loan dependent on future season ticket sales.
Mr Whyte had previously denied that.
Mr Johnston believes administrators could remove Mr Whyte's claim on club assets, making it easier for them to move the club to new ownership.
Mr Johnston has already called on the administrators to investigate aspects of Mr Whyte's takeover of the club, and there is an inquiry being carried out for the Scottish Football Association.
But the latest letter from the former chairman cites a clause in the circular to Rangers shareholders issued in June 2011 by Mr Whyte which could lead to a challenge to his position as secured creditor, with first call on club assets.
While pledging funds for the club, including working capital and to develop the team player squad, Mr Johnston highlighted a clause that says the deal was "enforceable by both the club and the vendor", who was Sir David Murray.
It went on to say: "A breach of any undertakings given by the Rangers FC Group in the agreement will result in the debt acquired being automatically extinguished."
Mr Johnston's letter reminds the administrators, Duff and Phelps, that Sir David Murray has also raised these issues. The first time was in August, to which assurances came on 3 January.
Sir David has repeated his request for further clarity more recently.
With investors and supporters seeking ways to move Rangers out of administration, Mr Johnston points to Craig Whyte's "purported position as the primary secured creditor by dint of the £18m loan which he claims he has provided to the club on an unencumbered basis".
Corporate guarantees
By that, the letter is understood to mean that the conditions of the sale required the payment for the Rangers debt should not be secured against other assets.
Yet it is now known that the loan was completed by borrowing against future ticket sales in a deal with a company called Ticketus.
If the club no longer owes £18m to Craig Whyte, Mr Johnston's letter said it should be easier to find a route out of administration.
Mr Whyte's statement, issued on Tuesday, said he had secured the loan from Ticketus - the London finance company from which the Rangers purchase was completed - with his own personal and corporate guarantees.
While it was in return for a share of ticket revenue over three seasons, Mr Whyte said none of the Ticketus deal was secured against Rangers assets.
A spokesman for Mr Whyte said he would not be responding to Mr Johnston's comments.