Royal Bank of British Leyland?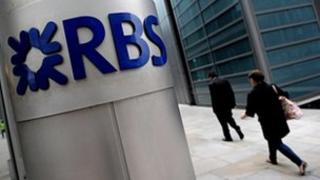 When RBS produced its 2010 results, chief executive Stephen Hester was looking forward to the first tranche of shares being offloaded into the market.
That, he said, would send a signal that this is a company heading back to normality.
He's not talking much about that with his 2011 results. The performance of the broader UK economy over the past year has weighed on the company and the share price.
The prospect of ring-fencing and more regulation has done likewise. The mis-selling of payment protection insurance in past years has gouged another £850m out of the accounts.
And looking abroad, the big hits have been Greek debt which has cost more than £1.1bn in the latest figures. Ulster Bank has made a loss of just over £1bn, an increase on last year's £761m.
Stephen Hester says he's rather pleased with the results. That's because it's relative to how much worse things could be, and it's because his focus is on the core bit of the bank, which has generated £6bn of profits.
I'll leave you to guess what an RBS business relationship manager would say to one of its customers if they went looking for an improved overdraft, arguing that the core bit of the business is doing exceptionally well, so long as you overlook the vast losses on everything else.
Noise
But this is a company unlike any other. And it's that uniqueness of its relationship with the British public, media and politicians which also weighs heavily on this year's accounts.
The chairman and chief executive are keen to stress how much they recognise public anger and anxiety about income inequalities, while most people's earnings are squeezed.
But they balance that with clear messages of frustration that the "noise" (Stephen Hester's choice of word) "is damaging the prospects of achieving the goals everyone wants us to achieve".
Chairman Sir Philip Hampton says the ability to run the company on a commercial basis "can be hindered" by the public and media pressure, and that amid that, it's important to remain commercially focussed.
Mr Hester has said the prospect of running a bank without the incentive of bonuses would leave Royal Bank of Scotland forever mired, like British Leyland.
It's a telling comparison. The car-maker in the 1970s was the very worst kind of inefficient, mismanaged nationalised corporation, requiring huge subsidy.
Implicit in that is the choice the bank chief wants the British public to consider: do you want a bank that's run in response to headlines and political pressures, or do you want your £45bn investment back, hopefully - eventually - with profits?