Private schools delay new National 4 and 5 exams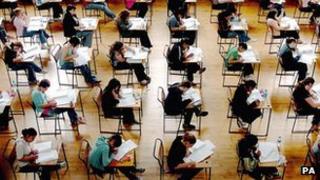 A cluster of private schools is to delay introducing the troubled new National 4 and 5 exams.
They include Kilgraston in Perthshire and St Aloysius in Glasgow.
St George's in Edinburgh has decided to adopt the English exams GCSEs instead.
Hutchesons' Grammar in Glasgow said at least some of its subject departments will delay for a year.
East Renfrewshire, the education authority running the highest attaining state schools in Scotland, has previously said it will postpone introducing the exams.
National 4 and 5 exams linked to the new curriculum for excellence are due to replace Standard Grades in 2014.
More than 54,000 pupils currently in second year (S2) of secondary school are scheduled to be the first candidates.
Following the decision by East Renfrewshire to delay, education secretary Michael Russell has made it clear to the 31 other education authorities who run state schools that he does not expect them to follow suit.
But independent schools are free to make their own decisions.
Mr Russell told BBC Scotland earlier this week that support was on hand for schools which are uncertain about the new exams.
He said: "I think the vast majority of schools are well prepared and working very hard on this. Thirty one local authorities have made it clear they do not wish to delay."
Mike Farmer, principal of Kilgraston, predicted that most independents will follow his school in opting to delay for a year.
He said it was possible some will, like St George's, consider adopting exams from the English education system instead of National 4 and 5.
He said: "There is a lot of uncertainty about the new National exams at the minute. Parents don't like uncertainty. Schools don't like uncertainty.
"Schools will sit on the fence just now like ourselves. If they don't like the look of National 4 and 5 they will probably go down the route of GCSEs.
"Some schools may go for Nationals. I don't want to sound as though we're knocking them."
'Strong feelings'
In a letter to parents, John Stoer, the head of St Aloysius, said staff needed more time to prepare.
"The current S1, however, will almost certainly sit the new examination in 2015. By then we will have had considerable time to plan and prepare for the new courses," he said.
Mr Stoer stressed that his school will not be following the Scottish government advice that pupils have a broad general education in their first three years of secondary (S1-3) then start studying for National 4 or 5 in S4, the academic year in which they sit the qualifications.
He added: "I feel strongly about this. I don't think it is a good thing from an educational point of view. There's no way they can reach that standard in eight or nine subjects in one year."
Mr Stoer said that if pupils were to sit fewer subjects, they would have fewer subjects to choose from when later deciding which Highers to take.
Larry Flanagan, education convener of the EIS, urged the Scottish government to allow local authority schools free choice over when they move to new National exams.
"State sector schools should have the same rights as private schools to make a school-based decision in the interests of their school community. It's a question of fairness," he said.