Rangers administrators: 'Old Firm match will be played'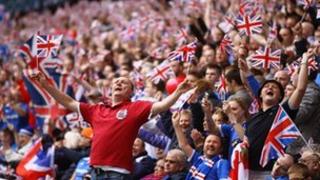 Rangers' administrators have assured fans that matches will continue to be played at Ibrox after a deal was struck over policing arrangements.
The chief constable of Strathclyde Police warned on Wednesday that the force would stop policing games unless Rangers paid the bill for their last home fixture against Kilmarnock.
But the administrators said agreement had now been reached with the force.
Rangers are due to play Old Firm rivals Celtic at Ibrox on 25 March.
The club went into administration last week over a £9m tax bill. BBC Scotland revealed on Thursday how that bill could have risen to £15m by the end of February.
In a statement released on the Rangers website, joint administrator David Whitehouse said: "We have had a number of constructive and positive meetings with Strathclyde Police and we can assure fans that matches will continue to be played at Ibrox.
"Agreements have been reached regarding policing games at Ibrox and payment arrangements have been put in place.
"We would like to thank Strathclyde Police for its continued assistance and co-operation.
"Matches will be played at Ibrox for the rest of the season so we urge all fans to keep coming along and continue their tremendous support for the club at this difficult time."
A spokesman for Strathclyde Police said: "There has been some reporting today in the press indicating that the policing of future matches at Ibrox is in jeopardy.
"At the meeting of Strathclyde Police Authority yesterday, the chief constable did confirm that we are working on a match by match basis.
"However, he also said that we have an excellent relationship with the adminstrators, and we currently do not foresee any problems policing future matches at Ibrox."