Call for Scotland's new single police force to be VAT exempt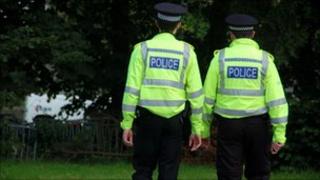 A Nationalist MSP has called for Scotland's new unified police service to be exempt from VAT.
It comes amid fears that the taxman may hit the single force with a £22m annual bill.
Under current legislation, police forces are exempt from the charge, but this may change when Scotland's eight regional forces are merged.
Single forces for Scotland's police and fire services are expected to begin operating on 1 April next year.
Last week, the president of the Association of Chief Police Officers urged politicians to ensure the levy was waived by the UK government, and said the bill equated to about 800 staff.
SNP MSP John Finnie said it would be a "naked cash-grab" if Westminster imposed a charge and "utter hypocrisy" given the Police Service of Northern Ireland does not pay VAT.
He said: "Only this week figures have shown Scottish police forces are estimated to have paid well over £1.2m in VAT on fuel costs to the Treasury in 2011.
"While emergency services budgets are under pressure, we must do everything in our power to help support them, which is why I'm calling on Westminster to treat Scotland the same as Northern Ireland.
"I have written to the justice secretary urging him to make representations to the UK government on this matter."
However Labour and the Liberal Democrats said the move to get reassurances on VAT come too late and should have been explored earlier.
Lewis Macdonald, Labour justice spokesman, said: "This boomerang attack from John Finnie lacks all credibility.
"The responsibility for this lies firmly with the Scottish government.
"They didn't just bring this particular model forward and then discovered the tax liabilities, they were well-warned and had every opportunity to explore other models and options to avoid it."
'Deeply flawed'
Liberal Democrat justice spokeswoman Alison McInnes said: "The SNP's plans to centralise our police service have been deeply flawed from the outset.
"The SNP clearly did not do their homework before drawing up their plans.
"Turning around now and blaming HMRC for the costs of their top-down centralisation is frankly ridiculous."
Holyrood's finance committee is still awaiting a response on the issue from the UK Treasury.
A Scottish government spokeswoman said: "We are exploring the VAT status of the new service, with the aim of minimising any impact this issue may have, and we are undertaking this reform to protect frontline services against Westminster budget cuts.
"The VAT issue is, of course, a strong illustration of why the Scottish Parliament should be responsible for all tax revenues generated in Scotland, including VAT, instead of being lost to Westminster."