Tommy Sheridan play set for national tour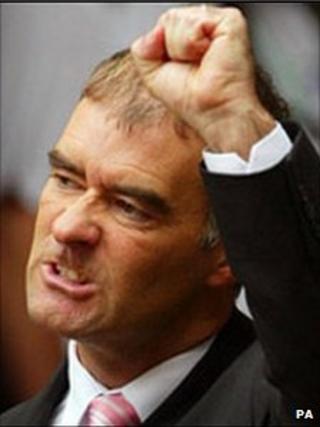 A play written by the creator of Rab C Nesbitt about the life of former MSP Tommy Sheridan will tour the country later this year.
"I, Tommy" is described as a "tragi-comedy" and will have comedian Des McLean in the lead role as the disgraced former MSP
Ian Pattison is writing the play, which will detail Mr Sheridan's rise to prominence and his downfall after he was found guilty of perjury.
The play will debut in the autumn.
The complete cast is yet to be confirmed although actor David Hayman has expressed an interest in directing the production.
The play will look at Mr Sheridan's early life in Pollok, the allegiances he formed and key moments for which he is remembered.
It will feature central characters in Mr Sheridan's life such as his wife Gail and his mother Alice, who Pattison described as an "incredibly colourful character".
He added that transforming Mr Sheridan into a stage creation was a theatre journey "from Karl Marx to Coolio", a reference to the former Scottish Socialist Party leader's stay in the Big Brother House.
Pattison has described the story as "quite incredible". He said that Mr Sheridan went from "being voted the Second Greatest Scot ever after Sir Sean Connery" to ending up in jail after being convicted of perjury.
The title of the play has been taken from the "I Claudius" notion of ego and power in political rule, according to Pattison.
He has said that: "Tommy became imperious like so many rulers.
"But lets not forget how many ordinary and powerful people were carried along by his firebrand rhetoric and were ready to ignore his foibles and vote him into power"
Speaking to BBC Radio Scotland, Des McLean described Mr Sheridan as a "remarkable character, who goes into courts like we go into supermarkets - there's never a dull moment".
He revealed that in 2007, he phoned up the Celebrity Big Brother hotline while impersonating Mr Sheridan and was told he would get a £75,000 fee if he appeared on the show.
The play will open in the autumn with a week at the Kings Theatre in Glasgow followed up with visits to venues in Aberdeen, Dundee, Edinburgh and Inverness