Row over the other Gers finances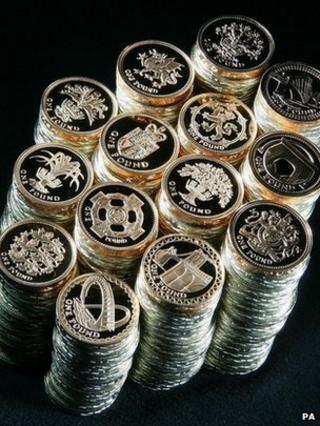 The figures, according to Liberal Democrat leader Willie Rennie, "show the serious financial situation of Scotland and, indeed, the whole of the UK."
It is, I suppose, another version of the mantra that "we are all in this together."
Yes, we are talking Gers again.
Not the 'Gers whose sobering financial worries are tracked elsewhere on this site - but the annual estimate of Government Expenditure and Revenue Scotland, this time for the year 2010-11.
As ever, all have won and all must have prizes. Each and every side claims victory in the statistical battle.
Nationalists claim that Scotland is thriving - or, at least, could thrive. Their rivals claim that only a discernible Union dividend keeps Scotland afloat.
To be fair, on this occasion, the comments are more modulated than they have been in the past.
That is perhaps the consequence of successive years of spending constraint both north and south of the border. It tends to concentrate the mind somewhat.
And so John Swinney, the Scottish finance secretary, makes no effort to claim that Scotland's financial situation is golden.
He would scarcely do that, given that his sustained narrative has been the problems besetting Scotland as a consequence of UK government parsimony and economic mishandling.
He simply argues that "Scotland continues to be in a stronger budget position than the UK as a whole" - which, given the state of UK finances, scarcely amounts to boasting.
Labour is admittedly rather more apocalyptic, arguing that there are "huge economic benefits" of Scotland working in partnership with the rest of the UK.
Again, it is stretching things a bit to say that sustained spending constraint amounts to a massive plus.
However, Labour's Ken Macintosh goes on to argue that the SNP's position is weakened by depending on the "finite resource" that is in the North Sea - while wisely noting that the oil and gas sector remains crucial to Scotland. (Would not do to seem to be griping about one of our biggest industries.)
And, more substantively, he goes on to note that Scotland's banks required a UK bail-out.
Which is true - although not immediately linked to the Gers figures. (The SNP rebuttal is that it was UK regulation which permitted the banking collapse. The Labour re-rebuttal is that the SNP also favoured a light touch.)
To the figures, then. For which, let us set aside for a second the political rhetoric and turn to the publication produced by Scotland's chief statistician, Roger Halliday.
The bold Mr Halliday reminds us that this is the 18th in the Gers series.
(He does not add that its gestation was originally a political attempt by the then Conservative government to undermine devolution. I added that bit.)
He then notes the following. In 2010-11, total public expenditure for the benefit of Scotland by all tiers of the public sector (UK government, Scottish government etc) was £63.8bn or 9.3% of total UK public sector expenditure.
By contrast, total non-oil revenue in Scotland was £45.2bn or 8.3% of UK non-oil revenue. Result misery - as Mr Micawber would undoubtedly have said.
'Stronger position'
But wait. With a per capita share of North Sea revenue, Scotland brought in £45.9bn or 8.3% - and with a geographical share (presumed under independence) the figures were £53.1bn or 9.6%.
Still misery? Maybe but a little less grim.
But wait. Do all the sums. Scotland's net fiscal balance in the year in question - with a geographical share of North Sea revenue - was £10.7bn or 7.4% of GDP.
The equivalent UK position - including all the North Sea revenue - was a deficit of £136.1bn or 9.2% of GDP.
So Scotland was in deficit - but the UK was even deeper in the red. Result happiness? Certainly, John Swinney thinks so - relatively.
He says Scotland "was again in a stronger position than the UK."
Even if they were to accept that point, Mr Swinney's rivals would argue that Scotland's finances scarcely permit of additional expenditure, far less a long-term oil fund.
To be fair, Mr Swinney - and Alex Salmond - have repeatedly said that such a fund would only be feasible once finances improve.
It was the best of times, it was the worst of times, it was the age of wisdom, it was the age of foolishness . . .