Fergus Muirhead answers your consumer questions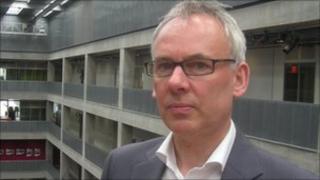 I'm Fergus Muirhead and I'm here to answer any questions you may have about any money or consumer issues.
Please drop me a line here at fergus@bbc.co.uk with your questions.
You can also read more on money and consumer issueson my own blog.
Q. Over the past few weeks I've had several calls from, I think call centres, about income protection. I had thought that these were soliciting me to purchase a policy and so promptly hung up. Yesterday however I listened to the call. The caller said that he understood that I had taken out a policy probably many years ago and that I might be eligible for a substantial refund. I confirmed that I had indeed had a policy. The only other information I gave was my postal address and to confirm that I would be interested to hear more; I was told that I would be contacted by another person with more details and am waiting for that call. I took out the policy probably in the mid-80s and I think closed it when I was aged 60 or there about - I'm now aged 72. I don't recall with which company I was insured. I am of course aware of internet scams and of companies which will indeed recover refunds for their clients - but at a high price. Can you please advise me how I should proceed? Chris Ward
A. I would proceed with extreme caution. I don't have a lot of time for these call centre calls that offer to help you when you didn't even realise you needed any help. Income Protection tends to be a long-term income replacement policy that would have stopped naturally round about your normal retirement age - so it could have been 60 as you suggest. Most income protection policies, as opposed to the payment protection policies below, provide a valuable level of cover if you are unable to work for a prolonged period of time and I'm not sure on what grounds you would be able to argue that you should be asking for a refund. Unless that it was in reality a Payment Protection Policy that you had, in which case read my comments below.
Q. Can you tell me how my husband and I can claim PPI that we didn't know we had on our loans and credit cards over the years? Where do we start? Do we need account numbers and agreement numbers, or do we just send a letter to each bank and hope they will look into our name and address and find out what loan or card we had or have with them. Help! We really could do with some help as we have struggled over the years.
A. If you are making regular payments for Payment Protection Policies then you should be able to trace the policy details through the reference numbers on the Direct Debits you pay regularly. So you need to establish first of all what policies you have and what cover they are providing. If you believe that you should not have been sold these policies in the first place then you need to write to the companies concerned and explain why you think that is the case. The most common reason for a policy being sold to the wrong people would be that you would be unable to make a claim because you were self-employed at the time, or unemployed, or had an existing illness that was not covered. But you do have to have a reason to make a claim. If the company rejects your complaint and you still think you were missold then you should address a complaint to the Financial Ombudsman. Whatever you do you should follow up any claim yourself rather than using the services of 'claims management' companies that will offer you the earth.
Q. I made provision in my will and named my wife and family as the main beneficiaries so do I need to go further? My daughter says that I must go to a lawyer and have special notice given of this. Can I write out a letter and have it witnessed expressing my requirements for money and burial arrangements? Rankin Cattan
A. A will only comes into effect on death. If you want to nominate someone to take care of your affairs whilst alive, should you become incapable of doing so personally, then you have to make a power of attorney. Many people assume that their spouse or legal partner would automatically have rights to make decisions for them if they could no longer do so but this is not the case, not unless that person has been formally nominated by you as your power of attorney. You can nominate whomever you choose. You can allow them to make decisions over your financial affairs or over your health and welfare, or both. You have to do a power of attorney whilst still capable of understanding the nature and extent of the powers you are granting and you should not be under any pressure to grant these. The 'forms and publications' section of the Public Guardian's website has a lot of information about powers of attorney. The Citizens Advice service is also a good source of information.
Q. I have recently agreed to act as power of attorney for an older relative should this become necessary in the future. My relative is currently acting as a power of attorney for his wife, who is suffering from Alzheimer's. If I am required to take power of attorney for my relative in the future, what happens with the position of power of attorney for his wife? Will I be required to take this responsibility on for her as well? What would happen if he pre-deceases his wife? Alison McLeod, Dundee
A. Power of Attorney is granted by the individual, it does not transfer. So, you would not take over the responsibility for your relative's wife if he can no longer do so and she is acting as his power of attorney. There may be a substitute named in the elderly lady's PoA which says who will take over if her husband can no longer act. If there is no substitute arrangement then her PoA would effectively cease to exist if the husband himself had become incapable, or had pre-deceased her.