Some Scottish GP premises 'sub-standard', BMA claims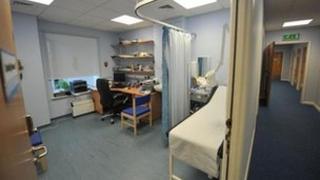 Some Scottish GPs are being forced to see patients in "sub-standard" rooms, the British Medical Association (BMA) has claimed.
It accused the Scottish government of failing to address the GP crisis.
The BMA said council planning departments should take into account the impact of new housing developments on health services.
A Scottish government spokesman said it had invested £75m in GP practices since 2008.
The spokesman said a further £250m of community-based health projects were being delivered.
The new report, published by the BMA's Scottish General Practitioners Committee, said progress had been made in several key areas in recent years.
But it highlighted "serious failings in the funding mechanisms for new premises".
It also said doctors still had "concerns over the lack of consideration of health service needs in areas with growing populations".
The report gave the example of the US tycoon Donald Trump's plans to build a golf resort, several hundred houses and a hotel in Aberdeenshire, when "no allowance" had been made for GP care.
Committee chairman Dr Dean Marshall said some good progress had been made on some of the key areas highlighted in a BMA report on general practice two years ago.
But he added: "So much of the plans of this government to improve access and provide more care closer to home rely on a strong GP infrastructure.
"Without adequate premises it will be difficult to provide the range of services and treatments that our patients need. In the 21st Century it is wholly inappropriate that doctors are consulting patients in sub-standard rooms."
Dr Marshall described general practice as being the "cornerstone of the NHS" as it provided "care for patients from the cradle to grave".
And he argued it made "common sense" for the provision of GP services to be considered as part of the planning process.
'Common sense'
He said: "As Scotland's population continues to grow there is a need to plan for how we provide care. Everyone needs to have access to their GP at some point in their life, from immunisation of babies to care for the elderly.
"If we are to improve access and provide the range of services that patients need, then we have to make sure we have the capacity to deliver."
"At present there is no requirement for planning departments to consider the impact of new housing developments on local health services. We believe that it would be common sense to include this as part of the planning process."
The BMA's progress report said there was a "shortfall in recruitment to general practice" which meant some positions, particularly those in remote and rural areas, were difficult to fill or could not be filled.
To help address the problem it urged the Scottish government to "take the lead" in helping local NHS boards introduce "innovative" ways to recruit GPs for remote and rural areas.
It also said the online and telephone advice service NHS24 had expanded its services "despite repeated concerns raised by doctors locally and the BMA centrally about the quality of its call-handling services".
The report also said it was "important that NHS24 prioritises its primary function of out of hours call-handling to maintain and improve the delivery of high quality out of hours services".