Lothian and Borders fire casualty rates questioned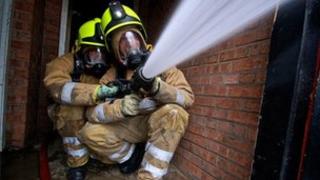 Lothian and Borders Fire Service has been told to look at why the region has Scotland's highest fire casualty rate.
A report by the Accounts Commission said the service was effective overall, but the level of fatal and non-fatal casualties was a "significant concern".
The brigade said the figures are higher because of its proactive approach.
Those rescued are offered oxygen or first aid as a matter of course and then recorded as casualties, even if they require no further treatment.
The Accounts Commission, which monitors public spending, found that the casualty rate in the Lothian and Borders Fire and Rescue Service area was a third more than both the national average, and Strathclyde, which is the country's largest fire service.
'Common factors'
There were four casualties for every 10,000 people in the area, so although the actual number was not large, the watchdog said the service had not done enough to establish why the rate of casualties was higher than anywhere else.
The report, prepared by Audit Scotland for the Accounts Commission, said the concentration of multi-occupancy houses in the area was likely to be a factor, as they are recognised as high-risk properties.
Half of Scotland's houses of multiple-occupancy are within the Lothian and Borders area, with more than half of the area's 950,000 population living in Edinburgh.
The report stated: "Although the absolute numbers are not high, the relative level of casualties compared to other services is high.
"While the high number of houses of multiple-occupancy is likely to be a factor, the service has not identified the underlying reason for this high level of casualties and has not been able to target preventative work accordingly."
It added: "The service needs to do more to use information about incidents to identify common factors and use this to target preventative work."
Despite a steady fall in incidents, casualty rates have been consistently above national levels for many years.
The report continued: "This is a significant concern and there is no evidence that the service has analysed why the level of casualties in the area is relatively high.
The commission found "a heightened focus on health and safety of firefighters" following the death of firefighter Ewan Williamson in 2009.
However, it also highlighted "concern" about high levels of sickness absence and said the service needs to invest more resources in the development of retained firefighters.
Precautionary check-up
Chair of the Accounts Commission John Baillie said: "Lothian and Borders Fire and Rescue provides an effective service with a clear strategic vision supported by good planning for matching its resources to levels of risk.
"It needs to do more to establish the reasons behind the relatively high casualty rate in the region."
Lothian and Borders Fire and Rescue said its casualty figures may appear worse than other areas due to its proactive approach at the scene of fire.
A spokeswoman said: "It is our policy to give anyone who has been rescued or has self-rescued and has suffered slight smoke inhalation or shock, oxygen or first aid at the scene.
"Under our incident recording system guidance, these people would automatically be considered as having received treatment at the scene or having had a precautionary check-up and would move up from being recorded as a non-casualty to a casualty."
"On investigation we have established that LBFRS has a disproportionately high number of people being provided with first aid at the scene of incidents and this may be as a result of our policy in relation to proactively providing oxygen/first aid."
She said the service was are carrying out further enquiries into the data and how it reflects on its overall casualty rates.