Susan Philipsz: Turner winner to make new Edinburgh art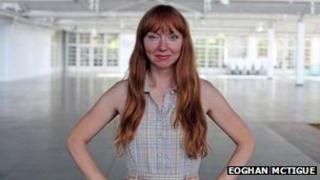 Turner Prize winner Susan Philipsz has been commissioned to create a work inspired by the one o'clock gun as part of this year's Edinburgh Art Festival.
The one o'clock gun is fired every day except Sunday from Edinburgh castle.
Susan Philipsz, who is Scots-born, specialises in making work from sounds. She won the Turner prize in 2010.
Her new installation, called Timeline, will feature short bursts of sound across the city.
Other new commissions include a pavilion made from salvaged materials and artworks made from rubble in skips.
Launching the 2012 festival programme, Sorcha Carey, director of Edinburgh Art Festival praised the planned commissions.
She said: "This year's commissions programme - our most ambitious to date - brings new work by the very best Scottish artists, from internationally established names to recent graduates, into public spaces across the city."
Picasso
As well as the commissions, the festival will feature new exhibitions by international artists; including Dietar Roth, Robert Kusmirovski, Donald Judd, Philip Guston and Rachel Mayeri.
There will also be several 'summer blockbuster' exhibitions, with one exploring Picasso's lifelong connections with Britain, at the Scottish National Gallery of Modern Art. Another major exhibition will feature the work of Van Gogh and Kandinsky, at the Scottish National Gallery.
Fiona Hyslop, cabinet secretary for culture said: "The focus that Edinburgh Art Festival places on visual art is integral to the success of Edinburgh's wider festival programme. In 2012 - the Year of Creative Scotland - the Art Festival yet again promises to enthral and delight audiences with an exciting, diverse and vibrant programme."
She said this year's Edinburgh Art festival would "showcase and celebrate brilliant artworks, Scotland's fantastic culture, exceptional talent and our reputation as a creative nation to audiences from around the globe."
Edinburgh Art Festival was founded in 2004 and will run throughout the month of August.