Court move by drug case Scot James Toner to end 'legal limbo' in Goa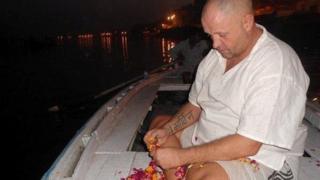 A Glasgow man who has been held in Goa without trial for 34 months is taking his case to the High Court in India.
James Toner, 47, was arrested in May 2009 for possessing a large quantity of hashish - a claim he denies.
Since he was detained, police officers involved in his case have been charged with drug-related corruption.
Mr Toner is now out on bail, but cannot leave Goa until his case goes to trial. He said he did not know when, or even if, that would happen.
'Total fabrication'
Mr Toner, who is originally from Castlemilk, was arrested three years ago while travelling in a taxi in Goa. He was charged with possessing 2.75kg of hashish.
Mr Toner admits having a small amount of the drug for personal use, but denies that he had such a large quantity.
He described the charges against him as "total fabrication" and claims that officers asked for $10,000 (£6,360) to "make my case go away".
After his arrest, Mr Toner was held in prison for 11 months. His passport has been seized by the Goan authorities.
Mr Toner has now been released on bail, but has been stuck in a "legal limbo" for nearly three years because the police officers who arrested him have been suspended.
He said his trial would not be heard until the Goan authorities had concluded their investigation into police corruption, a process which could take years.
Six police officers in the anti-narcotics cell in Goa have been arrested, including the unit's head, Police Inspector Ashish Shirodkar, who has been charged.
Police Sub-Inspector Punaji Gawas, the investigating officer and main witness in Mr Toner's case, has been suspended pending the investigation.
Mr Toner said he has been given no indication of when the investigation would be finished.
He is now aiming to speed up the process by taking his case to the High Court in Bombay.
Mr Toner said he would be applying "to expedite my case on the grounds that it's taken years, and on the grounds that the main witness has been suspended.
"We will also be using the fact I have no means of supporting myself, no insurance and no way of getting any, along with other welfare issues."
It is expected that the case will be heard at the next session of the High Court in Bombay on 9 May.
Since his arrest, Mr Toner has appeared in court in Goa 80 times, with the case being continued each time. His next appearance is scheduled for 14 June.
Mr Toner is not allowed to work in Goa and has relied on friends back in the UK to send him money.
He said: "People back home have supported me but there comes a time when that has to stop.
"I'm here alone again. This will be my fourth monsoon and I'm sick every day."
'Let down'
Mr Toner has a 14-year-old son who lives in Scotland, but says his son blames him for the situation.
The 47-year-old said he felt "let down" by the lengthy legal process.
He said: "I've not come to expect anything because I feel I've been let down so many times.
"It's not that I've given up hope, but I feel this is the only way to survive."
Mr Toner also criticised the level of assistance he had received from the Foreign Office during his time in Goa.
A spokesperson for the Foreign and Commonwealth Office (FCO) said: "We continue to provide Mr Toner with appropriate consular assistance.
"We have advised him he is welcome to approach consular staff in India, who stand ready to help at any time.
"However, the FCO cannot interfere in another country's legal procedures, just as they cannot interfere in ours."
Mr Toner's constituency MP, Glasgow South's Tom Harris, raised the case at Prime Minister's Questions last month and has since met Foreign Office Minister Jeremy Browne to discuss Mr Toner's situation.
Mr Harris said: "I'm pleased that Jeremy Browne is taking this case seriously.
"Whatever the truth about Mr Toner's guilt or innocence, it simply cannot be right that nearly three years after his arrest, he is no clearer about his fate.
"I accept sensitivities about the government not wishing to interfere in India's judicial system - that would be wholly wrong.
"But we have a responsibility to make sure that Mr Toner, as a UK citizen, receives justice and receives it timeously."
Mr Toner says he travelled to India to "find himself" after suffering depression which he believes was caused by the death of his brother, Martin, who was murdered in Glasgow in 2004.