Lung cancer 'still most common' in Scotland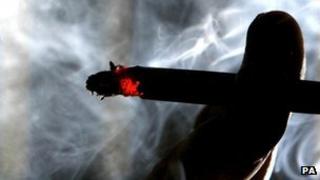 Scotland remains the only part of the UK where lung cancer is the most common cancer, according to statistics released by a charity.
The Cancer Research UK figures show breast cancer is the most common form of the disease across England, Wales and Northern Ireland.
But in Scotland, there were about 5,000 lung cancer cases in 2009 compared with some 4,400 cases of breast cancer.
The charity called for cigarettes to be sold in plain packs.
Jean King, Cancer Research UK's director of tobacco control, said the figures highlighted the deadly impact of tobacco in Scotland.
She added: "The high number of cases reflects the number of smokers from several decades ago when attitudes were different.
"Tobacco advertising hasn't appeared on UK TV since 1965, but that didn't stop the marketing of cigarettes. New, more sophisticated marketing techniques have lured many thousands into starting an addiction that will kill half of all long-term smokers.
"It's vital that the UK closes one of the last remaining loopholes that portrays smoking as something glamorous and safe, rather than the lethal product it truly is. Ending the packet racket and putting all cigarettes in plain packs with large health warnings is key."
Previous decades
Cases of lung cancer mirror smoking rates two to three decades earlier as more than 80% are caused by tobacco, according to the charity.
And the differences in lung cancer cases for men and women reflect the smoking patterns in previous decades for each sex.
Smoking rates for women in the UK were highest throughout the 1960s, with about 45% women smoking. This has since fallen to 20%.
More than 65% of men smoked during World War II and throughout the rest of the 1940s, with lung cancer rates in men peaking around 30 years later in 1979 at nearly 115 men out of every 100,000. Now, 22% of men are smokers.
Until the late 1990s, lung cancer was the most common cancer across the UK as a whole. In 1997 it was overtaken by breast cancer, but still accounts for 14% of all new cancer cases in men, and 11% in women.