When wind turbines turn bad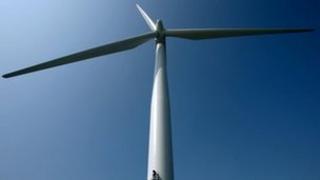 Anyone know the Korean word for 'stramash'? Maybe they'll adopt it in Seoul, after watching the fallout from the withdrawal of South Korea's Doosan Power Systems from its plan to manufacture wind turbines in Scotland.
The episode, which blew up a storm in Holyrood today, has several lessons, only one of which is for the Koreans about the fractious nature of Scottish politics. For more on that, read my colleague Brian Taylor.
Another is that it pays to listen to Business Scotland, on BBC Radio Scotland at 10.05 on Sunday.
Last week, Finance Secretary John Swinney was talking about his meeting with Doosan bosses this week, in the light of the wind power decision. It's clearly a programme for those in the know.
That meeting is on Friday. Stand by for a suitably upbeat statement to follow.
Clean energy
And ahead of then, it's worth reading Doosan's statement about all this carefully. The company's not withdrawing from Scotland, where it already has more than a thousand employees, including a unit in Renfrew researching super-efficient boilers.
Nor is it giving up on renewable energy developments on this side of the planet. It says it continues to "fully support the development of clean energy solutions".
What seems to have gone wrong for the Doosan plan is timing, and perhaps the wrong choice of technology. The fanfare of announcement was in March last year. By the end of 2011, they say they were concerned by "economic confidence and liquidity" in Europe.
In December, it wasn't hard to find the cause of the confidence problems in Europe. However, those being funded from east Asia have fewer problems with liquidity than others in Europe. On the contrary, investments of this sort are a way of recycling Asian surpluses into more mature, developed economies, such as the UK.
I've been hearing from Michael Timar, an energy specialist at consultants PricewaterhouseCoopers, who cites uncertainty in the UK renewables market while the energy market review continues to leave the subsidy regime in limbo. A lack of certainty means a lack of confidence to invest, obviously.
Korean honour
But there's more to Doosan's decision about wind turbines in particular. The engineering giant is across many sectors, and took a strategic decision to get into renewable power. It seemed to think it could get into wind turbines, but doesn't seem to have realised the cost of design and development, and the advantage enjoyed by the giant companies already in that market.
So far, these companies have taken onshore technology and moved the same type of turbine into shallow water. The next stage is a move to much bigger offshore power plants, generating up to 10 megawatts, and that requires a big investment into different types of technology, at which the existing players start with an advantage.
So it may be that the decision not to announce the withdrawal from wind turbines was a matter of Korean honour, not wishing to draw attention to an error of judgement. Or it may be that it was a tactical retreat, to be followed by a move into a less developed technology, at which Doosan could have more of a first mover's advantage. Wave and tidal power spring to mind.
The Donald
Meantime, the tone of Donald Trump's interventions in such questions of industrial strategy are simply bewildering. Today, the Doosan decision was greeted with some relish from New York, as the tycoon reckons this shows there's no future to wind turbines. If Scotland persists in developing them it will become a "third world wasteland which global investors avoid".
I'm beginning to wonder if Donald Trump's opposition to wind farms is an elaborate hoax, being perpetrated - or at least exaggerated - by someone who wants to undermine the wider movement against wind farms.
And it's worth recalling the broad political consensus about opening the door to Mr Trump to ensure he invested big-time, Trump-style in his Menie Estate, north of Aberdeen. Given the tone he's adopted and his apparent commitment to throw money at forcing change to wind farm policy, it would be interesting to know if MSPs are as supportive of him now.
We'll find out more next week, when the phenomenon of The Donald is scheduled to sweep into Holyrood.