Power company Doosan says it may still invest in Scotland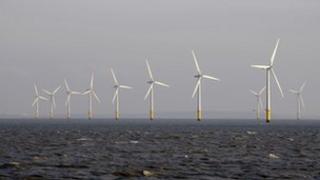 Doosan Power Systems of South Korea has said it is still considering future investment opportunities in Scotland.
The firm made the announcement despite withdrawing plans for a scheme to design and manufacture wind turbines.
The statement followed a meeting between senior executives and Scottish Finance Secretary John Swinney at the company's headquarters in Seoul.
It comes a day after a row erupted at Holyrood over the way the news of the withdrawal has been handled.
Currently Doosan employ 1,300 people in Scotland, mostly in Renfrew.
Just over a year ago the company announced its intention to locate a multi-million pound offshore wind renewables base.
It has now blamed the "overall economic conditions and liquidity issues" for the decision to withdraw the proposals.
At the time, Doosan said it hoped to recruit approximately 700 staff over 10 years.
However, in a statement, the company said it had decided late last year to abandon the plans.
Parliamentry row
During First Minister's Questions on Thursday, Alex Salmond was accused of suppressing the news by the Labour leader Johann Lamont, who said Mr Salmond had known of the decision in December 2011, although it had only emerged now.
Speaking after his meeting, Mr Swinney said: "This was a very productive meeting and I was pleased to hear that Doosan remain fully committed to their existing activities within the UK, including employing 1,300 people in Scotland.
"Scotland presents very real investment opportunities when considering future energy developments."
A Doosan spokesman said: "Doosan Power Systems welcomed the visit by Cabinet Secretary John Swinney to our parent company in Korea today.
"The meeting was very positive and we reiterated our commitment to working in Scotland as a significant location for our business.
"Our relationship with the Scottish government is strong and we continue to consider future opportunities for investment in Scotland."
John Swinney's visit to Doosan's Seoul headquarters was part of a wider tour of Japan and South Korea, involving meetings with business leaders and ministers.
Scottish Labour's finance spokesman Ken Macintosh said: "Quite how John Swinney can claim this meeting was 'very productive' when he walked away empty handed is beyond me.
"This sounds more like the finance minister desperately attempting to close the stable door after the horse has bolted than securing investment."