Money not top priority, Scots tell Oxfam charity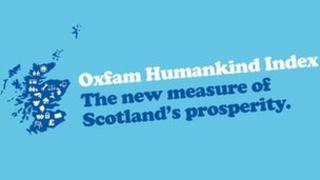 Decent housing, good health and clean neighbourhoods are more important to Scots than money, according to a leading charity.
Oxfam Scotland carried out research to establish what people across the country believe is important.
The charity said its Humankind Index for Scotland will be a more useful measure than traditional economic benchmarks.
The index was compiled from responses obtained across the country.
The Fraser of Allander Institute at the University of Strathclyde has been working with the charity on the index.
Fieldwork included a survey with over 1,000 respondents carried out by YouGov.
Equal top priority on the index were housing and health.
In second place was each person's neighbourhood and the environment.
Joint third place was held by work satisfaction and good relationships.
"Having enough money" came in at fourth equal, alongside safety, green spaces and secure or suitable work.
Financial security was ranked fifth, a place it held jointly with culture and hobbies.
Judith Robertson, head of Oxfam Scotland, said: "Oxfam believes that poverty is unjustifiable. Scotland is one of the wealthiest countries in the world, but the majority of Scots don't get a fair share.
"Our research shows that most Scots aren't interested in huge amounts of money - they just want enough to provide for their families and to feel secure.
"Measures like GDP are part of a failed economic model. They don't look at people's real priorities - things like the quality of their local environment or how good their relationships are with friends and family."