Food banks: What they do
The Trussell Trust runs the UK's only network of food banks. They operate more than 200 food banks across the UK, including 10 in Scotland.
Last year they fed almost 129,000 people, double the number of the previous year. In Scotland 6,000 people were fed by their food parcels.
Chris Mould, executive chairman of the trust says food banks are a lifeline when people cannot make ends meet.
Trussell Trust food banks provide at least three days nutritionally-balanced food for local people in crisis.
They are community projects led by churches and supported by schools, businesses and local individuals who donate all the food, give their time to volunteer and, where they can, donate money too.
Food banks are a lifeline when people can't make ends meet.
Health problems
Thousands of frontline care professionals across the country use food banks week in week out to prevent people they are working with from falling into a downward spiral that so often could lead to them losing their home, suffering family breakdown, getting caught up in crime or facing serious mental and physical health problems.
With a shocking 13 million people living in poverty in the UK - half of them in working households - the need is massive.
Flat-lining incomes, rising food and fuel prices, higher rents and changes to tax and benefits all mean the situation for so many is set to get worse over the coming years.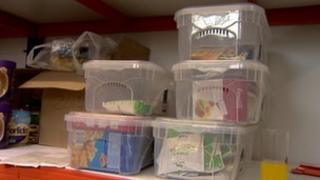 Two out of three households have no savings so unemployment, an unexpected repair bill, a cut in hours or overtime mean the household books simply won't balance any more.
Again and again, food banks meet people who have been going without proper food for days - often so that their children can get a square meal.
Christian charity
In winter the stark choice is between eating and heating and there are no winners.
The Trussell Trust, a Christian charity, believes every community should have a food bank: no-one in the UK should have to go hungry.
Since 2004 the charity has launched a network of 200 food banks. It aims to launch 450 food banks by April 2015.
Highland food bank, based in Inverness, was the first in Scotland.
It launched in 2005, and this year will feed about 3,300 people across the Highland region.
In the past year, nine new food bank projects have launched across Scotland in places such as Glasgow, Renfrewshire and Angus.
The trust is working with local communities to establish a food bank network right across Scotland and to do so as fast as possible.
BBC Scotland Investigates: Breadline Scotland transmits on Sunday 29 April at 16:32 on BBC Radio Scotland