Good Beach Guide rankings washed out by Scottish downpours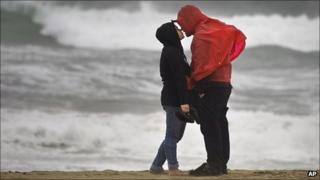 Heavy summer downpours have been blamed for a dip in top quality bathing water at Scotland's beaches.
The number ranked excellent in the annual Good Beach Guide has again fallen below the UK average.
Only 41% of Scottish beaches tested last summer made the grade - 45 out of 110. This was down on the year before and compares with a UK figure of 68%.
Above average rainfall is thought to have increased the amount of debris and animal faeces washed off the land.
The rest of the UK has had one of the best years on record for bathing water quality in the Marine Conservation Society (MCS) guide, but the number of Scottish beaches rated as excellent dipped by 5% from the 2011 figure.
'Good and bad'
Calum Duncan, MCS Scotland programme manager, said heavy rains were almost certainly to blame.
He said: "Intense rainfall increases surface water run-off - which contains livestock waste and dog faeces from farm land and city streets - and can cause untreated sewage to discharge from combined sewer overflows, both of which can have public health implications for Scotland's coastal waters.
"But it's not all bad news, after being designated as an official bathing water at the beginning of last summer, MCS is pleased to be able to recommend Monifieth, in Angus, for excellent water quality in this year's Good Beach Guide."
Across the UK, 516 out of 754 beaches were rates as excellent, up 8% on the 2011 rankings.
Mark Williams, Scottish Water's environmental regulation and climate change manager, said: "We are committed to ongoing investment to ensure our assets continue to support Scottish bathing water quality and are working closely with SEPA and the Marine Conservation Society to ensure Scotland's bathing waters are protected."